Tag Archives:
patti rothberg
Does anyone else remember Patti Rothberg? The NY singer-songwriter's "alternative" debut
Between the 1 and the 9
was one of my favorite albums of the 1990s. Patti has certainly updated and polished her sound on
Double Standards
, which is set for release on May 13th. But even though the new disc leans heavily into Patti's pop side, there are still a couple of blues numbers to be found.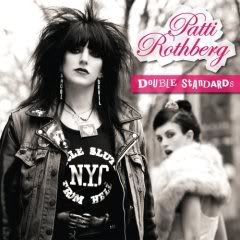 Songs like the opener "Alternate Universe", "Eye To Eye" resurrect Patti's signature blend of throaty rock and pop pep. The catchy title track takes the pop laced rock a little deeper – almost into Celebrity Skin
era Hole territory, while "Get Away With It" sounds like a kindler, gentler Donnas
.
"After The Parade" and "Inventory" decelerate and dip into an earthier sound, "Wavelength" is a pretty, atmospheric ballad, and "Sway" features sweeping piano work – though Patti's voice doesn't quite fit into the melody of the latter track.
The stand out tunes are the guitar embellished slow burner "Hard Times" and the acoustic guitar and kazoo finale "Someone I Love", both of which fully and terrifically embrace the blues style that I loved so much in songs like "Up Against The Wall" on Between the 1 and the 9
.
Double Standards doesn't quite live up to the grand potential posed so long ago on Patti's debut, but is definitely worth a listen when taken on its own merit.
Patti Rothberg Official Site
Patti on MySpace
Pre-order the CD