One of my favorite music blogs Wears The Trousers recently started their own record label, and their first release will be a tribute to legendary folk singer Odetta. As a great fan of Odetta's (I had the privilege of seeing her perform live at Mountain Stage), I'm so glad that Wears The Trousers showed her due respect by selecting a talented group of contemporary female singers to carry on her grand legacy. The tribute will be released on November 30th and all profits from its sales will be split between two charities (The Fawcett Society and The Women's Resource Centre) that benefit women.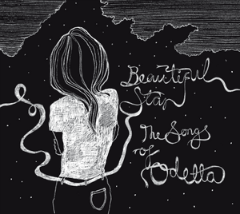 Linda Draper's softly buoyant, harmonica-accented rendition of "Sail Away" opens the tribute, but it is Ane Brun's haunting croon of "If I Had A Ribbon Bow" that truly conjures up the musical spirit of Odetta.
The pop sheen of artists like Gemma Ray and Haunted Stereo seems a little out of place here. "900 Miles" and "Santy Ano" are substantial enough songs to anchor any vocal and these versions are certainly catchy, but I think other singers (such as Dayna Kurtz and Pamela Means) would've been better suited to the kind of music Odetta recorded. Fortunately, this is the only remotely negative remark I can make about the album.
Madam's eerie Patti Smith-like wail of "Waterboy" and Kellli Ali's delicate interpretation of "All The Pretty Little Horses" are absolutely gorgeous.
Sandy Dillon's live acoustic recording of "Can't Afford to Lose My Man" and Josephine Oniyama's "The Gallows Pole" are superb recreations of Odetta's unique brand of gritty fierceness and mellow femininity.
The album includes two versions of "All My Trials," one by Anaïs Mitchell and the other by Marissa Nadler. I personally prefer the first cover by the incomparable Anaïs Mitchell. Marissa Nadler's atmospheric take is unquestionably pretty, but Mitchell's inflective vocal phrasing better represents the organic nature of Odetta's music.
Katey Brooks belts out "What A Friend We Have", while Arborea puts a gentle, wistful spin on "This Little Light of Mine" for the finale.
Track List:
01 Linda Draper: "Sail Away Ladies"
02 Ane Brun: "If I Had A Ribbon Bow"
03 Gemma Ray: "900 Miles"
04 Anaïs Mitchell: "All My Trials"
05 Haunted Stereo: "Santy Anno"
06 Madam: "Waterboy"
07 Sandy Dillon: "Can't Afford To Lose My Man"
08 Ora Cogan: "Motherless Child"
09 Josephine Oniyama: "The Gallows Pole"
10 Pepi Ginsberg: "Beautiful Star"
11 Society Of Imaginary Friends: "Another Man Done Gone"
12 Marissa Nadler: "All My Trials"
13 Kelli Ali: "All The Pretty Little Horses"
14 Katey Brooks: "What A Friend We Have"
15 Liz Durrett: "Chilly Winds"
16 Arborea: "This Little Light Of Mine"
Ora Cogan – Motherless Child (mp3 expired) *
*mp3 posted w/ permission of label
You can currently pre-order physical or digital copies of the album through the label's website and mp3s will soon be made available on Amazon and iTunes…
Buy @ Amazon
(not yet available)
Buy @ Amazon.co.uk
(not yet available)