Leif Ove Andsnes' The Beethoven Journey: Piano Concertos No 1 & 3 is a very splendid and beautiful collection. Inspired by hearing Beethoven in a hotel elevator and accompanied by the Mahler Chamber Orchestra, Norwegian pianist Andsnes tackles two of Beethoven's piano concertos with plans to eventually record the other three.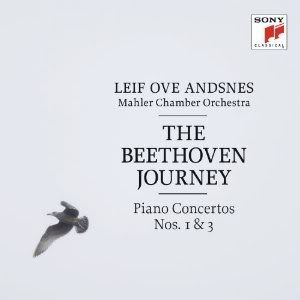 The first half of the album is devoted to Beethoven's "Piano Concerto No. 1 in C Major Op. 15." The first two movements of the concerto are elegantly serene, but the orchestra really comes alive in the robust and spirited third movement of the piece.
"Piano Concerto No. 3 in C Minor, Op. 37" makes up the final portion of this gorgeous album. It's a lush and dramatic work.
Andsnes and the other musicians do a superb job in their individual performances of each work. Even more noteworthy is their musical coalescescence. Too often a guest pianist fails to truly merge with the orchestra, but Leif Ove Andsnes and the Mahler Chamber Orchestra perform here as one united body.
BUY @ AMAZON
Leif Ove Andsnes Official Site