From A&E's Shining a Light Concert…
Guest Post By: Laura
Laura's Top 25 Albums of 2014:
25. Mary Lambert: Heart on My Sleeve
Buy @ Amazon
---
24. The Gaslight Anthem: Get Hurt
Buy @ Amazon
The Gaslight Anthem Official Site
---
23. Jamie T: Carry On the Grudge
Buy @ Amazon
---
22. Ed Sheeran: X
Buy @ Amazon
---
21. John Newman: Tribute
Buy @ Amazon
---
20. Against Me!: Transgender Dysphoria Blues
Buy @ Amazon
---
19. Shakey Graves: And the War Came
Buy @ Amazon
---
18. July Talk: Guns & Ammunition
Buy @ Amazon
---
17. James Bay: Let It Go
Buy @ Amazon
---
16. You + Me: Rose Avenue
Buy @ Amazon
---
15. Spoon: They Want My Soul
Buy @ Amazon
---
14. FKA Twigs: LP1
Buy @ Amazon
---
13. Johnny Marr: Playland
Buy @ Amazon
---
12. Cold Specks: Neuroplasticity
Buy @ Amazon
---
11. St. Vincent: St. Vincent
Buy @ Amazon
---
10. Neon Trees: Pop Psychology
Buy @ Amazon
---
9. Banks: Goddess
Buy @ Amazon
---
8. Foo Fighters: Sonic Highways
Buy @ Amazon
---
7. Counting Crows: Somewhere Under Neverland
Buy @ Amazon
---
6. First Aid Kit: Stay Gold
Buy @ Amazon
---
5. Damien Rice: My Favourite Faded Fantasy
Buy @ Amazon
---
4. Hozier: Hozier
Buy @ Amazon
---
3. Jack White: Lazaretto
Buy @ Amazon
---
2. Jenny Lewis: The Voyager
Buy @ Amazon
---
1. Ryan Adams: Ryan Adams
Buy @ Amazon
Read more of Laura's reviews at her music blog Lyrique Discorde
*all mp3s, streams & videos uploaded by & posted w/ permission of artists, labels and/or their PR reps
Broken & Beautiful
is the debut solo album from Suzie McNeil. The former
Rockstar: INXS
contestant opted for a power pop sound rather than the pure rock style she had on the show, which is a bit disappointing but still quite good. When covering classic songs like The Stones' "Start Me Up" and Queen's "Bohemian Rhapsody", McNeil proved her pipes were more than capable of tackling any raucous rock song. But her own music leans more toward the highly charged, energetic pop of Pink, Kelly Clarkson, or even The Killers. The result is very entertaining and infectious, though far too over-produced for a voice with such a strong range as Suzie's.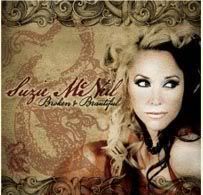 Songs like "Lonely (Are You Coming Home?)", the title track, and the shimmering closer "The One" alternate between Killeresque arena rock-pop and a softer radio friendly pop.
As soon as I heard the catchy "Hung Up" with its Kelly Clarkson hook, I thought it would be the perfect radio pop single. Apparently it is already on its way to being a hit in Canada. Unlike many of the tracks on the album, McNeil had a hand in writing the tune and it seems to indicate she doesn't need much helping in making good music.
"Believe" was the promotional theme for NBC's weight loss reality show, The Biggest Loser. By a weaker singer, the inspirational lyrics would be far too saccharine sweet to bear. But Suzie's raspy wail carries it off. The Goo Goo Dolls' Johnny Reznick co-wrote "Poison", which is probably why much of the arrangement sounds exactly like his band's "Iris".
Pink – credited under her real name, Alecia Moore – co-wrote the bluesy ballad "So In Love", and McNeil's throaty vocals could easily be mistaken for the song's writer. The hard-edged pop of "Skin" and "Where Were You?" also sound very much like Pink, or perhaps classic Heart.
Since leaving the Rockstar reality series and recording her own album, Suzie McNeil has recorded duets with Clay Aiken and the JD Fortune fronted INXS, toured as a backup singer for the aforementioned Pink, had her music featured in television shows, and is currently appearing in the stage production of "We Will Rock You" at Toronto's Canon Theatre.
I was not granted permission to share an mp3 from the album, but you can hear samples at the links below. And here's a mp3 from Suzie's live performance on Rockstar:INXS:
Suzie McNeil – Losing My Religion (mp3)
Suzie McNeil Official Site
Suzie on MySpace