Hold up, we have a new contender for album of the year! Set for release in the U.S. on August 13th by Concord Music (and already available in the U.K.), Valerie June's magnificent debut, Pushin' Against a Stone, is unlike anything you've ever heard before.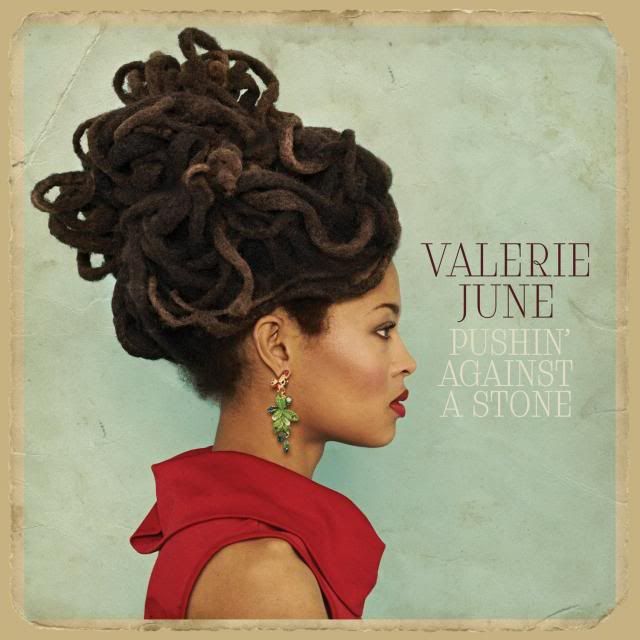 The opener, "Workin' Woman Blues," is an acoustic blues masterpiece swiftly carried along by Valerie's distintive voice until it burts forth with robust brass embellishments and subtle handclap percussion. You can watch the video below.
The ballad "Somebody To Love" is an exquisite marriage of a low-fi folk melody and sweet, plucky bluegrass instrumentation.
"The Hour" spins some retro soul and doo-wop into the album's lush, multi-genre mix.
"Wanna Be On Your Mind" sways with an almost trip-hop beat and psychedelic rhythm softened by tinkling chimes.
"Tennessee Time" is a haunting, string-accented, beautifully old-fashioned country ballad reminiscent of O Brother, Where Art Thou
's "Didn't Leave Nobody But The Baby
."
The album's title track is another attention-grabber, with Valerie's purr falling somewhere between Eartha Kitt and Erykah Badu as it slides over an otherworldly, vintage soul arrangement.
As I said when I posted its video last week: the standout track "You Can't Be Told" has that grinding, funky blues-rock sound associated with bands like The Black Keys and Alabama Shakes, but Valerie's voice and phrasing give it a soulful, gospel-folk spin similar to Queen Esther.
Eerie acapella verses dance with ghostly acoustic blues riffs in the modern murder ballad "Shotgun." Valerie sings like the changeling child of Skip James and Lykke Li.
"On My Way" serves as a hopeful Americana finale to this spectacular, incomparable album.
Buy @ Amazon.co.uk