Maplebee's new album
Home
will be released on November 4th. Much like her previous release
Hello Eve
, the new album blends ethereal electro-pop and folk elements into creepy girl darkness. Maplebee is Melanie Garside, formerly of Queen Adreena and Mediaeval Baebes.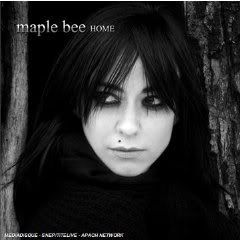 Home didn't immediately capture my interest like Hello Eve did. Tracks like "While You Were Sleeping" and "Quiet The Silent World" are solid pop tunes, but would be much better if the melodies didn't overwhelm Melanie's voice as they do. It was her eerie wail in "Moth Touch" that first drew me to her music, and the heavy production on the new disc often prevents her voice from shining.
"Me and Rose" quietly slides in to make everything different and better. The tune blossoms from a slightly spooky hush into quirky Parisian melancholy accented with cello and accordion. The sweeter, simpler piano and guitar ballad "No Place" has a similar quiet charm.
Some of the remaining tracks fail to deliver on the drama they seem to be building toward, but there are definite exceptions. The swaying glockenspiel tinkle of "Mirrior", the ominously seductive "I Want It All", and especially the finale "This Face This Name" finally unleash some of the old Maplebee velvet snarl.
Buy @ Prikosnovenie
Buy @ Amazon