Rave On Buddy Holly will be released on June 28th and you can stream the album in its entirety below. With a cast of superstar singers like Florence + The Machine, Fiona Apple, Patti Smith, She & Him and Lou Reed, I'm not at all surprised that I love this new tribute to rock 'n' roll pioneer Buddy Holly.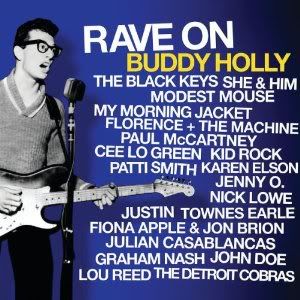 First, the spectacular: I would've written this review much sooner had I not been listening to Florence + The Machine's cover of "Not Fade Away" on repeat. The Machine saves Buddy Holly's trademark quirks for their clanging, banging-industrial-sized-pots-and-pans arrangement, allowing lead singer Florence Welch to unleash all the unearthly wails and gorgeous vibratto of her magnificent voice.
Fiona Apple and Jon Brion opt for a simpler, splendidly tinkling, truer-to-original rendition of "Everyday." Who knew Fiona Apple was a folk singer?
Nevermind that, who knew that Kid Rock was a soul singer? I do now thanks to his wonderfully brassed up cover of "Well…All Right." He needs to drop the country-rap stuff and collaborate with Black Joe Lewis & The Honeybears.
Julian Casanblancas' moody "Rave On," Jenny O.'s cooing "I'm Gonna Love You, Too," She & Him's retro dance party "Oh Boy!," and the legendary Patti Smith's soulful rendering of "Words of Love" are also stand outs.
Elsewhere, Cee Lo Green reminds me why I loved Gnarls Barkley's "Crazy," but couldn't stomach his tepid new solo pop album. Cee Lo's unusual pipes can be so powerful, but he requires an interesting and solid arrangement to bring out the best in his voice. The Caribbean chimes and percussion of "(You're So Square) Baby, I Don't Care" is the perfect song for him.
Other highlights on the tribute include Karen Elson's "Crying, Waiting, Hoping" (featuring Elson's husband Jack White), Nick Lowe's "Changing All The Changes," My Morning Jacket's "True Love Ways" and The Detroit Cobras' "Heartbeat."
But, ugh, Modest Mouse's dreary, deadpan "That'll Be The Day" reminds me why I always referred to that surge of irksome, post-Death Cab "indie-rock" boy bands as "mouse rock." It's the only track on the album I skip every time.
Rave On Buddy Holly gives a solid finish, however, with a trio of covers by Lou Reed, John Doe and Graham Nash.
Rave On Buddy Holly by concordmusicgroup
*SoundCloud Album Stream Uploaded by Concord Music Group & Posted w/ Permission of Label's PR Rep
Pre-order @ Amazon