Joan Osborne will return on March 27th with her seventh studio recording, Bring It On Home. A collection of classic blues covers, the album features songs originally made famous by Allen Toussaint (who appears on the album), Muddy Waters, Ray Charles, Otis Redding and Al Green among many others. Though she is probably best known for the pop hit "One of Us" from her studio debut Relish, Joan's gritty voice has always been better suited to the blues – from her live NYC blues bar Early Recordings to her cover of "Nobody's Fault But Mine" on the Rosetta Tharpe tribute, Shout, Sister, Shout!. Bring It On Home finally gives Joan the opportunity to fully immerse herself in the blues and it's a wild and very enjoyable ride.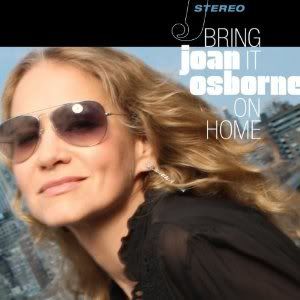 The opener, "I Don't Need No Doctor," is an uptempo, brass-embellished jazz number that was originally recorded by Ray Charles. It's definitely a fun start for this excellent album, but I personally prefer bluesier tracks like the magnificent title track.
The Sonny Boy Williamson song "Bring It On Home" is pure, sultry, vintage blues and a perfect showcase for Joan's fierce pipes.
Her gorgeous voice is also well matched with the seductive soul ballad covers of "I Want to Be Loved" (originally by Muddy Waters) and Otis Redding's "Champagne and Wine."
Allen Toussaint plays piano on Joan's peppy and delightful cover of his song, "Shoorah! Shoorah!"
The standout track is the sexy, rumbling freight train of blues-rock "Shake Your Hips," which was apparently the result of an impromptu in-studio performance.
That fact – along with my own experiences seeing Joan Osborne in concert in the past – seems to confirm my suspicion that these songs will be spectacular live. So I suggest West Virginians catch Joan Osborne at Mountain Stage in Morgantown on April 15th.
Joan Osborne – Shake Your Hips (mp3)*
*mp3 hosted by Saguaro Road Records & posted w/ permission of artist's PR rep
BUY @ AMAZON