It's hard to believe Peter Gabriel's landmark album, So, is 25 years old. So is the rare '80s album that sounds as if it could be a new release. In fact, it wasn't until I listened to the new 25th Anniversary Edition that I realized just how much of Peter Gabriel's influence can be heard in the moody music of bands like Gotye and Fun. as well as the worldlier sound of Xavier Rudd. Peter Gabriel's remastered and expanded So – 25th Anniversary Edition will be released in several formats (see below for details) on October 23rd.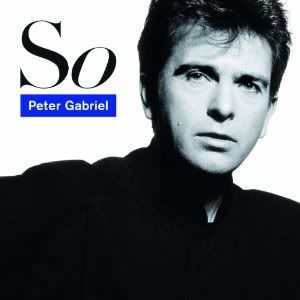 So opens with the brooding, dramatic "Red Rain."
The hit single "Sledgehammer" follows. It remains an unusually constructed pop song and the quasi-Gospel crescendo of voices at the end still feels like a surprise.
Yet it's the quiet, heart-stirring ballad "Don't Give Up" that remains my favorite. A duet with guest vocalist Kate Bush, the song is a moving examination of someone at the end of their rope and an emotional plea for them to hold on to hope.
Strange as it may be, "Big Time" was one of the first songs whose lyrics I memorized (the first was Starship's "We Built This City," yes I was an '80s child). The catchy pop song enjoyed similar success to "Sledgehammer," most likely due to its similarly semi-animated video.
The album's final ballad, "In Your Eyes," may forever be remembered for its use in Say Anything's iconic boombox scene, but it's still a beautiful love song in its own right.
So – 25th Anniversary Edition will be released as a stand alone remastered CD, a deluxe edition 3-disc boxset with 2 additional live discs, and a limited edition "Immersion" boxset with all of the above as well as an extra CD of song drafts, a vinyl LP of the album and 2 DVDs.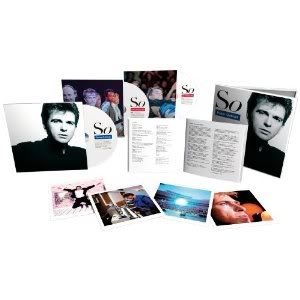 I received the 3-disc boxset version (pictured above) of the So – 25th Anniversary edition for review. The 3-CD boxset includes the original album and liner notes, postcard pictures of Gabriel from the era and a two-disc live album from the final So tour concert in Athens in 1987. The live discs include such other Peter Gabriel hits as "Shock the Monkey" and "Solsbury Hill." I'm not usually fond of live albums, but the sound quality of the concert recording is remarkable and confirms Gabriel puts on a great show.
Buy So (25th Anniversary Remaster) CD @ Amazon
Buy So (25th Anniversary 3-CD Deluxe Edition) @ Amazon
Buy So (25th Anniversary Immersion CD/DVD/Vinyl Boxset) @ Amazon