Conatus is the third release from 22-year-old Russian-American singer-songwriter Zola Jesus (a.k.a. Nika Roza Danilova). The title refers to an inate desire for self-development and reflects Zola's interest and education in philosophy. Zola's childhood training in opera seems to have also influenced the grandeur and scope of her dark and entrancing pop songs.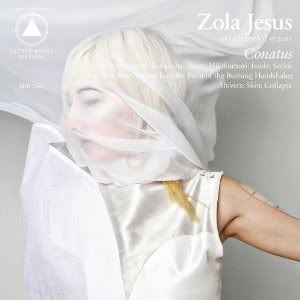 The dramatic electronic instrumental "Swords" melts into "Avalanche," which layers Zola's eerie, Siouxsiesque wails over simple but effective programmed beats.
Slinky beats, a chilling trill of piano and Zola's haunting multi-layered howls make "Vessel" absolutely hypnotic.
"Ixode" is a Gothic disco and the catchy tempo of "Seekir" is slathered over a phantasmal backing choir.
Then "Skin" lets everything else drop away save for a lovely, sparse piano melody beneath Zola's gorgeous, otherworldly voice.
The rest of the album pales in comparison to the aforementioned standouts tracks, but Conatus has more than enough overall fire to make it memorable.
BUY @ AMAZON