Scott Alarick's Revival is a beautifully crafted, eloquent, heartfelt novel about folk music, the enduring bonds of love and friendship, and the equally heavy burdens of doubtful youth and regret-filled age.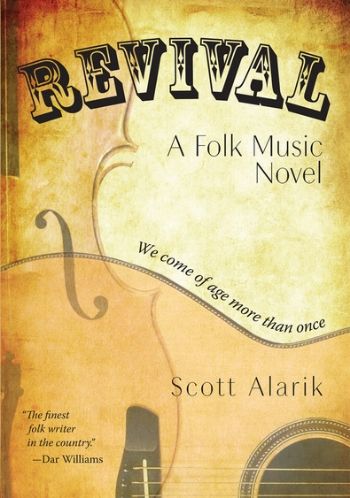 There are undeniable elements of Crazy Heart in the romance between the novel's washed up, alcoholic, folk curmudgeon and his feisty, young, female protégé. There are also parallels to the tv show Nashville in its juxtaposition of the country music industry's dark, greedy, business side with the ragtag group of struggling unknowns at a local open mic night. Though the publication date indicates the book predates the tv show.
Beyond those plot threads lies a rich tapestry of folk music history, a sincere and delightfully gushing love for the art and struggle of making music, and a championing of folk artists both classic and current. Alarik delves back into the origins and traditions of folk music, its evolutions and international travels and transformations, and philosophizes on the pros and cons of songwriting techniques and credits.
There's also a very passionate, somewhat crusty folk critic character I found myself relating to a bit. Considering Alarik's past as a folk critic for The Boston Globe, I wonder how much of the character is autobiographical. Alarik was the first Boston critic to write about Ani DiFranco, Alison Krauss, Dar Williams, Kate Rusby, Shemekia Copeland,and Crooked Still. He's also a coffeehouse-frequenting folk musician, so I'm also curious about what else in the novel may have been taken from his own life.
The novel references several well known names in the folk community – everyone from Woody Guthrie and Pete Seeger to Emmylou Harris and Dar Williams to Utah Phillips and Ani DiFranco. Alarik even incorporated Dar Williams' song, "February," into the story by changing the title and making it a song written by one of the protagonists.
Yet all the folk music namedropping, like everything else about this exquisite novel, is completely organic in placement and pace. The characters are at times overly starry eyed and sentimental, but it fits with the novel's overall hopeful, jubilant mood. It's very much a love story, but it's also very much a story about loving music.
It's also a lovely book in the literal, physical sense. The paperback is as large as a hardback, but not heavy. The gorgeous cover art shows the intertwined bodies of a fiddle and guitar.
Revival is a beautiful book inside and out.
I actually hugged the book when I finished it, happily sighed "Now that's a book!" and handed it to Brendan, who is reading it as I type this review. He just said: "This book is awesome! How does someone create such lovable characters within a few pages?"
So there you go, two very enthusiastic endorsements from the Muruch household. Oh, and we did not get a free review copy if that matters. It was worth every penny we paid. Revival is now one of my new favorite books of all time, and possibly my favorite book about music.
You can sample the first pages of the novel at Amazon
and if you like them, you'll probably love the book as much as we do. You can also hear free audio readings from the book by the author himself here.
Buy @ Amazon