To say Anaïs Mitchell's fourth album, Young Man in America, was my most anticipated release of the new year would be a chasmic understatement. Listening to this worthy followup to 2010's spectacular "folk opera" Hadestown, I kept thinking Anaïs Mitchell is like a modern day Woody Guthrie or Bob Dylan. Her epic lyrical narratives echo Guthrie's masterful talent for blending the literary with the ordinary, while her fierce and unique vocal phrasing as well as her intricately multi-layered arrangements take Dylanesque to a whole new realm. Young Man in America, which features guests Chris Thile and Rachel Ries, will be released on Mitchell's new independent label, Wilderland Records, on February 28th. I don't think it premature to predict it will be on my year end list next December.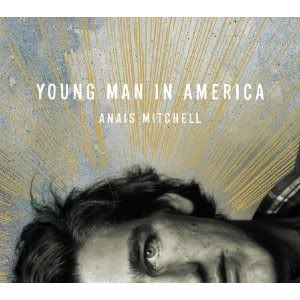 The sparse yet dramatic instrumental intro to the album's opener, "Wilderland," blooms into a haunting, humming choir of voices. The title of the track, coined by Anaïs after she witnessed a family being evicted from their home, gave her record label its name.
The album's impressive title track is one of those songs that burrows deeper beneath the skin with each listen. Anaïs' folk orchestra of players provide a lush and stunning arrangement, particularly in the horn-driven instrumental finale of the song.
The song's lyrics, and the general theme of this entire song cycle, share the tale of a Prodigal Son of sorts. The titular "Young Man in America" is a rebellious youth seeking to quench his discontent and wanderlust with travels, drugs, alcohol and various other excesses and indulgences…all of which fail to satisfy his melancholy hunger.
Another wayward son / waiting on oblivion
Waiting on the kingdom come to meet me in my sin
Waiting to be born again / mother kiss me cheek & chin
"Dying Day" is another stunner with its choral harmonies, steady rhythm, poetic lyrics and Chris Thile's lovely mandolin embellishments.
The beautifully tragic ballad "Shepherd," based on her father's novel The Souls of Lambs, sings of a worked-obsessed farmer whose wife dies in childbirth as he tends his fields.
The storm was o'er within the hour / the shepherd saw the sun come out
The shepherd's wife saw ne'er again / he buried her and the babe within
He turned the seed into the ground / he brought the flock to feed thereon
He held the cleaver and the plow / & the shepherd's work was never done
Even tracks that didn't initially captivate me, such as "Venus" and "Anne Marie", grew on me with subsequent listens to the extent that I wondered why I didn't love them at first listen.
To be honest, Young Man in America doesn't compare to the magnificence of Hadestown or the delicate charm of 2007's The Brightness. But then, what could? It's probably like whatever Michelangelo created immediately after sculpting David and painting the Sistine Chapel ceiling. Some artistic heights are simply too lofty to surpass no matter how gifted the artists or how great the subsequent art. Taken on its own merit, however, Young Man in America is both an ambitious recording project and a beautifully rich tapestry of classic folk songwriting. Anaïs Mitchell just may be my generation's most talented singer-songwriter.
Uploaded by Wilderland Records
BUY @ AMAZON