Yes, that Molly Ringwald. Her debut album, Except Sometimes, was released in April. It's taken me this long to review it, because I've wanted to like it so much more than I actually do. I've always loved just about anything Molly Ringwald does – from her Pretty in Pink
acting years to her successful transformation into an author – so I wish I could say I love her album, but my feelings remain very mixed.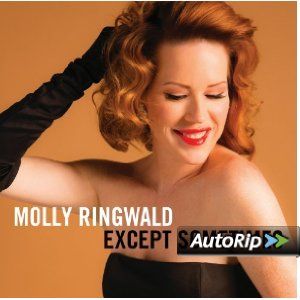 Molly doesn't have the strongest voice, but it has a pleasant enough tone well suited to what I would call parlour jazz. I definitely wouldn't recommend this album for jazz purists — jazz fanatic Brendan, for one, couldn't stand it.
Let's get the bad out of the way first. Molly's voice simply lacks the heat necessary for the sultry opener "Sooner Or Later," particularly if you've heard the Madonna version
. And "I Believe In You" is so irksome and bland I can't help but feel "a rose by any other name" could not have gotten this record deal.
Yet there is plenty of good to be found here. I really like the sweet, melancholy tone she takes on in "I Get Along Without You Very Well (Except Sometimes)." "The Very Thought Of You" and "Where Is Love?" also fit Molly's voice like a glove.
That's really how the entire album goes: lovely ballads alternating with not-so-lovely, uptempo missteps. I'm sure Molly Ringwald is used to her name opening doors for her only to suffer harsher criticism than an unknown talent would, but I really don't think that's the case here.
The great news is the album is worth purchasing solely for her stripped down, jazz ballad cover of "Don't You (Forget About Me)
" – the Simple Minds hit from The Breakfast Club soundtrack
. That final track makes me think Molly would be much better off doing an album of pop hits transformed into jazz songs rather than an album of jazz standards such as this one. You can hear Molly sing portions of the song and talk about the inspiration (namely, John Hughes) for recording it in the video below…
Buy @ Amazon