When I reviewed Tori Amos' new classical-inspired album, Night Of Hunters, I said: "I hope the powers that be at Deutsche Grammophon can convince Tori to record a purely classical album next time around." My wish has been granted with the label's release of an exquisite instrumental version of the album entitled Sin Palabras (Without Words).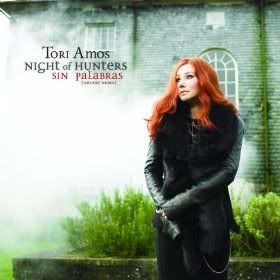 Sin Palabras has all of the strengths of Night Of Hunters, yet none of the weaknesses that plagued that album's vocal trickery and lyrical fantasy. As a result, even songs that I found irksome in their original form – such as "Cactus Practice," which incorporates Chopin's "Nocturne Op. 9 No. 1" – sound absolutely lovely sans vocals.
This gorgeous instrumental version illuminates all of the intricacies and nuances of the arrangements. The brilliance of Tori's piano playing, as well as that of her accompanying orchestra musicians, is put on full and stunning display.
Following is the track list for Sin Palabras along with the classical works sampled in each song:
1. Shattering Sea (Alkan: Song of the Madwoman on the Sea-Shore, Prelude op. 31 no. 8 )
2. SnowBlind (Granados: Añoranza – from 6 Pieces on Spanish Folksongs)
3. Battle of Trees (Satie: Gnossienne no. 1)
4. Fearlessness (Granados: Orientale from 12 Spanish Dances)
5. Cactus Practice (Chopin: Nocturne op. 9 no. 1)
6. Star Whisperer (Schubert: Andantino from Piano Sonata in A major D 959)
7. Job's Coffin
8. Nautical Twilight (Mendelssohn: Venetian Boat Song from Songs Without Words op. 30)
9. Your Ghost (Schumann: Theme and Variations in E flat major WoO 24 from Ghost Variations)
10. Edge of the Moon (Bach: Siciliano from Flute Sonata BWV 1031)
11. The Chase (Mussorgsky: The Old Castle from Pictures at an Exhibition)
12. Night of Hunters (Scarlatti: Sonata in F minor, K.466 and the Gregorian Chant "Salva Regina")
13. Seven Sisters (Bach: Prelude in C minor)
14. Carry (Debussy: The Girl with the Flaxen Hair, from Preludes I)
Whether you loved or hated Night of the Hunters, or experienced mixed feelings as I did, I highly recommend Sin Palabras. It's one of the most beautiful recordings I've ever heard. So much so that I added it to my Top 25 Albums of 2011, which already included Night of the Hunters.
BUY @ AMAZON
(only $4.99!)