Siobhán Donaghy's sophomore solo album
Ghosts
was released by EMI/Parlophone on June 25th. Siobhán was formerly a member of UK girl-pop group Sugababes and recently collaborated with
Patrick Wolf
(which is how I came to know of her) on a remix of her single "So You Say". This is not the dramatic eccentricity of Wolf, nor is it as fluffy as Sugababes. Instead,
Ghosts
falls somewhere in between. There are catchy pop melodies and dance beats aplenty, but the vocals and music are multi-faceted enough to make it appealing.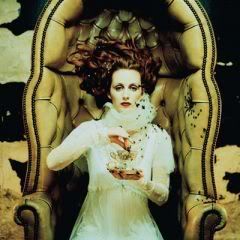 Songs like "Don't Give It Up", "So You Say", "Sometimes", and "Make It Right" have an airy girl pop vibe, with Donaghy's whispery vocals layered over electronics. The lovely tone of her voice becomes more apparent on the sweet breeze of "There's A Place".
The humorously cursed and lovelorn traveller's saga "12 Bar Acid Blues" is by far the stand out track. Siobhán gracefully balances a tricky speak-sing verse style and melodic chorus over electro-beats, pulses, and warbles.
"Medevac" lifts the pop sound up a bit with noisy sirens and a more prominent beat beneath Siobhán's ethereal vocals. And the retrograde finale "Ghosts" is indeed haunting.
You can download a free mp3 of "Ghosts" by signing up for the mailing list at Siobhán Donaghy's Official Site (left side of main page).
Siobhán on MySpace
Parlophone Records