The 5 Browns have an unfortunate band name and their new album In Hollywood has a very cheesy cover photo, but the music turned out to be terrific. The 5 Browns are a piano virtuoso quintet comprised of classically trained siblings from Utah. With In Hollywood, the family band transforms movie music into classical piano instrumentals with elements of jazz and pop.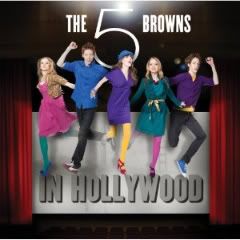 From the amusingly buoyant yet still somewhat thunderous piano rendition of Darth Vader's theme from Star Wars through a classical medley of Disney songs to the dramatic Hitchcock medley finale, most of the scores covered are from well known classic films. But also included are recent scores from Atonement, The Hours, and Catch Me If You Can.
My personal favorite is, of course, the Wizard of Oz medley.
I was not granted permission to share an mp3, but you can hear samples at the links below.
Buy @ Amazon