Brendan here again. My first attempt to read Stewart O'Nan's Everyday People was shortly after I moved to the U.S. from a rural European community, and I guess I just wasn't ready then for the African-American voices through which this story is told. A decade in America has widened my view and I recently devoured the Pittsburgh-set novel. Everyday People centers on the turbulent lives of the Tolbert Family.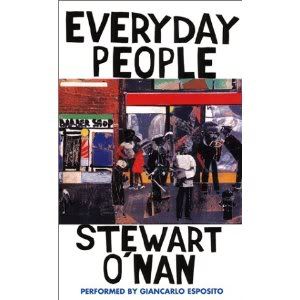 Everyday People is formulated similarly to another favorite of mine, Elizabeth Strout's Olive Kitteridge
, with each chapter capturing a different voice in the story, a different perspective.
Crest Tolbert is adjusting to life after being paralyzed from the waist down. His brother, Eugene, found Jesus in prison and is determined to save the lives of his gang-member friends. Their father, Harold, has given up a lover in an attempt to recommit to his family, but his wife has noticed the distance between them.
Like The Interrupters, Everyday People documents a community in crisis. The characters are vividly realized and the story is heartbreaking – but, as Stewart O'Nan has repeatedly demonstrated, well-written heartbreaking stories can be rewarding and uplifting.
BUY @ AMAZON