Best known for country hits like "Outbound Plane" and "Letting Go," singer-songwriter Suzy Bogguss dives into pure, unadulterated folk on her new album, American Folk Songbook. With some help from Gretchen Peters and Matraca Berg, Suzy introduces younger generations to sing-along folk favorites such as "Beautiful Dreamer," "Red River Valley," "Ol' Dan Tucker" and "Wayfaring Stranger."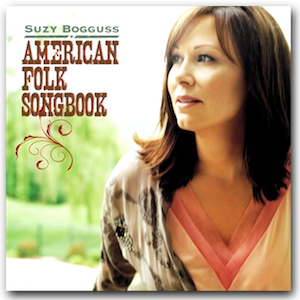 Suzy's beautiful rendition of "Shenandoah" and buoyantly swaggering cover of W.C. Handy's blues classic "Careless Love" are the stand out tracks, but the entire album is lovely from beginning to end.
I was not granted permission to share an mp3, but you can hear samples at the links below.
The CD will be available in all Cracker Barrel Country Stores on July 18th and released nationally through other retailers on August 2nd. It's not yet available for pre-order on Amazon, but should be at the link below closer to the release date…
Pre-order @ Amazon
In the meantime, you can purchase the album in both CD and digital format via Suzy Bogguss' Official Site.