Matraca Berg returns on May 17th with her new album, The Dreaming Fields. The name Matraca Berg may not be familiar to you, but chances are you've heard at least one of her songs if you've listened to country music in the past two decades. Matraca is one of country music's most successful songwriters, having penned hits for The Dixie Chicks, Keith Urban, Gretchen Wilson, Reba McIntyre, Sara Evans, Trisha Yearwood, Martina McBride, Faith Hill, Suzy Bogguss and many more. Trisha, Martina, Faith, Suzy and Patty Loveless sang backup on and appeared in the video for Matraca's own hit single "Back in the Saddle," from her 1997 album, Sunday Morning to Saturday Night
. Matraca's new album has a softer, pretty country-folk style and features guests Suzy Bogguss and Gretchen Peters.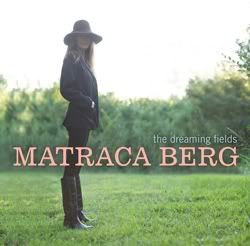 Seems the only way a man can live off the land
These days is to buy and sell
So I'm going down to the dreaming fields
But what will be my harvest now?
Matraca's warm voice and affinity for blending acoustic folk-pop with country twang is akin to the solo debut of Eastmountainsouth's Kat Maslich Bode.
Matraca's voice takes on a textured Emmylou Harris lilt on the album's gorgeous ballads – such as the inspirational "Racing The Angels" and the soulful, string-accented title track.
Overall, the music on this album is exquisite and the songs examine deeper, darker themes than are typically found in the modern country-pop era. The opener "If I Had Wings" is narrated by a battered woman, "The Dreaming Fields" speaks of the loss of a family farm and "South of Heaven" expresses the fears of a soldier's mother.
I was not granted permission to share an mp3, but you can hear samples at the links below…
BUY @ AMAZON
Matraca Berg Official Site
Matraca Berg MySpace