Voices of the Civil Rights Movement: Black American Freedom Songs 1960-1966
is a two-disc set assembled by
Smithsonian Folkways
featuring 43 tracks of songs and audio clips recorded live at some of the mass meetings that were held during the Civil Rights era. The set includes a 38-page booklet written by Bernice Johnson Reagon analyzing the structure and historical inspiration behind the songs, particularly those performed in congregational style.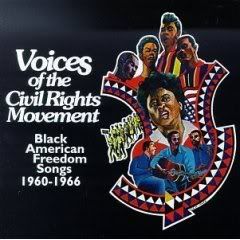 From the opening medley of "Freedom Chant", "Oh Freedom", and "This LIttle Light Of Mine" by the Freedom Singers in 1964 to the rousing finale of "We Shall Overcome" the same year, this set is filled with strikingly emotional moments.
Some of the most poignant tracks are the prayer and mass participation on "Lord, Hold My Hand While I Run This Race", "Get On Board, Children" led by Willie Peacock, "Oh Freedom" by Hollis Watkins, "Ain' Scared Of Nobody" led by Amanda Bowens Perdew and Virginia Davis, "Wade In The Water" led by Fannie Lou Hamer, "Don't You Think It's About Time That We All Be Free" by Mabel Hillary, "Get Your Rights, Jack" (based on Ray Charles' "Hit The Road, Jack") by CORE Freedom Singers, Bernice Johnson's awe-inspiring rendition of "Been In The Storm So Long", and "Ballad Of Medgar Evers" by Matthew Jones and SNCC Freedom Singers.
The set also has reworked versions of the old union tune "Which Side Are You On?" and the spirituals "I Told Jesus" and "City Of Heaven", the former of which was recorded in its original form on Natalie Merchant's The House Carpenter's Daughter and the latter two on Spirituals by Marian Anderson.
Also included are several songs that were recently featured on the astounding We'll Never Turn Back by Mavis Staples, including "Jesus On The Mainline", "We'll Never Turn Back", "We Shall Not Be Moved", "99 and 1/2", "Ain' Gonna Let Nobody Turn Me 'Round", and Marshall Jones' haunting "In The Mississippi River".
This collection is even more affecting in light of the recent racial injustice in Jena, Louisiana and the horrifying hate crime in Logan County, West Virginia. Despite the appearance of progress on the surface of American society, it's appalling to see how little some things have changed in the past three decades.