Bat For Lashes' third album, The Haunted Man, is quite different from her previous releases. The tribal drums and dark drama that first brought our attention to Natasha Khan's alter ego have been replaced with atmospheric electronics and somber melodies. Even Natasha's voice sounds different, at times straining to reach an angelic soprano level when we know her natural tone is a smokey alto. And yet somehow…it works, it gets under your skin. My feelings about the album are strongly mixed between my initial, unavoidable disappointment when comparing it to her past and unshakable, irresistable respect for her extraordinary creativity.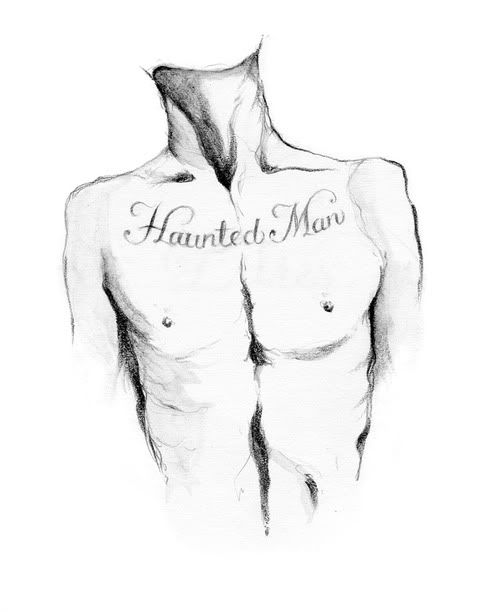 The Haunted Man opens with the expansive, cinematic "Lilies." The song seemed overly long the first time around, but I like it more with each listen. It has an almost hypnotic effect. One of the most capitivating moments on the album comes when Natasha breathes "Thank God I'm alive" just before the song's horn-driven orchestral finale.
The darkly quirky electro-pop numbers "All Your Gold" and "Marilyn" hark back to 1980s-era Kate Bush and/or Peter Gabriel.
Sadly, it seems no amount of repeated listens will make "Horses of the Sun" anything but irksome to me.
"Oh Yeah," however, is rhythmic and interesting. I do wish the piano flourish at the end was audible throughout, but better late than never.
The stunningly pure and beautiful ballad "Laura," which I first posted back in July, is by far the standout track and outshines the rest of the album. Brimming with all the emotions of a lifetime of regret and a heart full of love, "Laura" remains one of the most exquisite songs of the year.
The sparse, string-accented "Winter Fields" in particular conjures the ethereal spectar of Kate Bush. Winter Fields may have been a more apt title for this cool and spacious piece of art.
Inspired by the Irish "troubles," the title track features a chilling interlude of militant drums and male vocals which were shouted and recorded over a canyon.
The rest of the album blurs and blends together, sometimes gorgeously, sometimes unremarkably. Had Bat For Lashes not been by a favorite artist of mine, I wouldn't have tried so hard to like the album and must admit I wanted to like it more than I actually did at first. However, it's turned out to be a grower like Kate Bush's 50 Words for Snow and Fiona Applie's The Idler Wheel. The Haunted Man is a very pretty and innovative collection.