I didn't watch much television in 2010 and gave up on many of the new shows I started watching last autumn. My current viewing roster is below…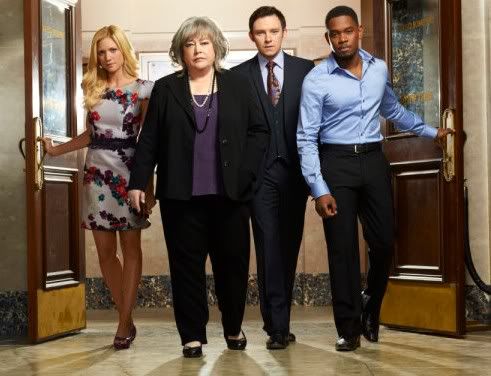 Harry's Law – airs on NBC at 10:00 p.m. EST on Monday nights.
I really didn't expect this show to be as good as it is, but never underestimated the awesomeness of Kathy Bates. This is a somewhat formulaic David E. Kelly legal dramedy, very much like The Practice when James Spader and William Shatner first joined. Kathy Bates stars as an ex-patent lawyer who opens a small criminal defense firm in a former "fine shoes" store. The quirky shoe store part of this setup is a little too David E. Kelly for me, and I find his standard skinny dumb blonde assistant character especially grating this time around. But it is refreshing to once again have a legal drama on tv that is interesting without being disturbing. And Bates is both formidable and hilarious as the lovable curmudgeon Harry. I can only hope Kelly doesn't ruin this one by making his actors sing as he did with Ally McBeal, Boston Public and The Practice, all of which I loved at the beginning but couldn't bear to watch by the end.
You can watch all the episodes at NBC's site.
—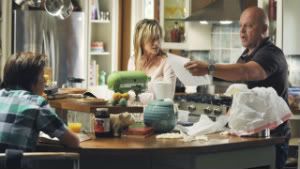 No Ordinary Family – airs on ABC at 8:00 p.m. EST on Tuesday nights.
I already posted about this superhero family/action drama after it first debuted last October (note: I gave up on Outsourced because it became the painful stereotype its critics accused it of). Created, written and produced by Greg Berlanti of Everwood, this family-friendly show stars The Shield's Michael Chiklis and Angel's Julie Benz as the parents of a family endowed with unusual abilities after a plane crash in the Amazon. The drama initially centered on the emotional struggles the characters experienced as they adjusted to their new powers, but this year the show has shifted focus on the superhero storylines replete with supervillians. Oh and you could make a pretty good drinking game out of geeky scientist Katie's stereotypical comic book and sci fi references.
You can watch all the episodes at ABC's site.
—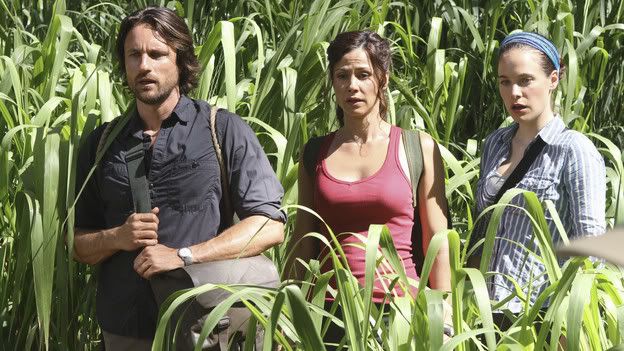 Off The Map – airs on ABC at 10:00 p.m. EST on Wednesday nights.
There were only two reasons I even gave this show, which is by the creators Grey's Anatomy, a chance: Caroline Dhavernas and Zach Gilford. If those names aren't familiar to you, Caroline Dhavernas was the star of the delightful but sadly short-lived Wonderfalls
and Zach Gilford played Matt Sorenson on Friday Night Lights. In Off The Map, the two star as young doctors who travel to an obscure South American village to work in a "doctors without borders" style clinic. The presence of such a talented cast (which also includes Meryl Streep's daughter, Mamie Gummer) and beautiful Hawaiian filming locations (last seen on Lost) have so far kept this medical dramedy from falling into Grey's mediocrity. Sure, there are moments of melodrama and sappiness. But they are anchored by the gorgeous scenery, solid acting performances and the tumultuous situations such an exotic locale produces.
You can watch all the episodes at ABC's site.
—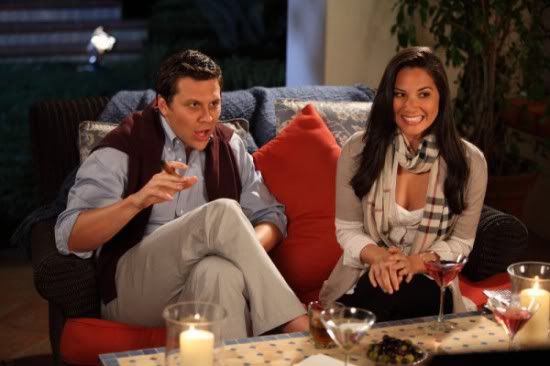 Perfect Couples – airs on NBC at 8:30 p.m. EST on Thursday nights.
Though I enjoyed the pilot, I really didn't expect to keep watching this one. But it gets funnier every week. Perfect Couples is a half-hour sitcom about three couples: one couple is blatantly messed up and fights all the time, one couple is repressedly messed up and act like relationship gurus (they'd be really annoying if they weren't so hilarious), and the other couple is relatively normal but still messed up. If the writing, direction or acting were off even just a little, this would be a disaster. But so far it's all very well done and sometimes seems more like an indie film about a comically dysfunctional group of friends rather than a network television sitcom.
You can watch all the episodes at NBC's site.
—
In other news, I actually like the new season of American Idol. I didn't even watch the show last year, but I couldn't resist Steven Tyler. I like the more positive vibe of the show and the new panel of judges. Tyler is especially entertaining since he has the quirky craziness and enthusiasm of Paula Abdul, but a more credible music background. I do wish they'd stop with the sob stories and bad singers – I usually tape the show to fast-forward through all of that. But they seem to be including more good singers this year to make up for it.
I'm also still watching old favorites Big Bang Theory, The Office, 30Rock and Modern Family. The perennially cheesy One Tree Hill has been surprisingly enjoyable this year despite the absence of the villianous Dan. I still love my geekout Jeopardy watching. And though I normally loathe reality series, ABC's hidden camera show What Would You Do? is addictive.
Oh and I absolutely adored Downton Abbey
, a BBC mini-series that recently aired on PBS. I eagerly await the second season, which is currently in production.