Browsing Taylor Books' fiction shelves, my eye was caught by a glint of gold. The embossed, gold-lettered title of The Thorn & the Blossom by Theodora Goss was shining under the twinkle lights on the top shelf. The small green and gold hardback book itself was unusually lovely and the "two-sided love story" contained within its pages was compelling enough to read in one evening.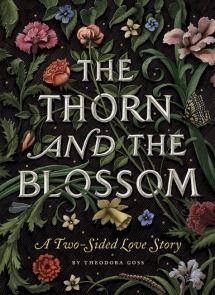 The Thorn & the Blossom is a romantic fable in unusual binding. This beautiful, open-spined book folds out like an accordion, so you can choose to read female protagonist's story then flip over to her male counterpart's perspective (or vice versa) as they meet in a bookstore, fall in love, are torn apart and attempt to find their way back to each other.
I usually dislike such publishing gimmicks and the lack of binding does require careful handling, but this book reminded me of Nick Bantok's Griffin & Sabine. The story and characters are imaginative enough to make it an enchanting reading experience.
Buy @ Amazon