Muruch's Vic and Brendan popped into our local independent bookstore/cafe, Taylor Books, Friday night for some coffee and books. While Brendan nabbed a Roddy Doyle novel, Vic browsed for the fiction shelves for something new and unknown. The gold-lettered title The Thorn & the Blossom by Theodora Goss was shining under the twinkle lights on the top shelf. The small green and gold hardback book itself was unusually lovely and the "two-sided love story" contained within its pages was compelling enough to read in one evening.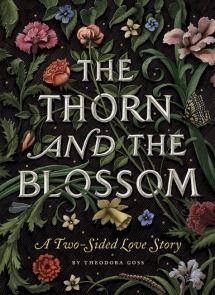 The Thorn & the Blossom is a romantic fable in unusual binding. This beautiful, open-spined book folds out like an accordion, so you can choose to read Evelyn's story then flip over to Brendan's perspective (or vice versa) as they meet in a bookstore, fall in love, are torn apart and attempt to find their way back to each other. I personally read Evelyn's story first, then Brendan's, but the story will work either way.
I usually dislike such publishing gimmicks and the lack of binding does require careful handling, but this book reminded me of Nick Bantok's Griffin & Sabine. The story and characters are imaginative enough to make it an enchanting reading experience.
Buy @ Amazon