Way To Blue: The Songs Of Nick Drake will be released on April 16th. The tribute to the late, great Nick Drake was assembled by Drake's original producer Joe Boyd. Recorded live in London and Melbourne with the various artists sharing harmonies and instrumentation throughout the album, Way to Blue features Lisa Hannigan, Vashti Bunyan, Shane Nicholson, Teddy Thompson, Robyn Hitchcock and many more.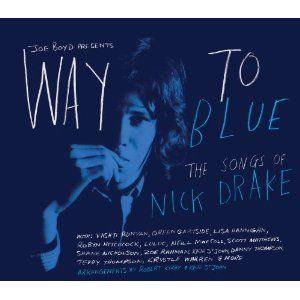 Luluc's opening rendition of "Things Behind the Sun" sounds like Nico covering Nick Drake, which I happen to like.
Scott Matthews' "Place to Be" is as deliciously gritty as an Eddie Vedder song.
Shane Nicholson (a.k.a. Mr. Kasey Chambers) manages to infuse "Poor Boy" with just enough pep and twang to make it fresh without compromising the integrity of the original.
The standout track is Krystle Warren's soulful rendering of "Time Has Told Me," the video of which you can watch below.
Vashti Bunyan and Lisa Hannigan are a perfect fits for their respective covers of "Which Will" and "Black Eyed Dog."
Teddy Thompson's "River Man" is surprisingly effective. It's my second favorite Nick Drake song (after "Northern Sky," which is sadly absent here) so I was cynical going in. But the piano and string arrangement of this cover is beautiful. You can watch the video below.
None of the tracks are weak, though many others blend into the background. There are so many other artists – Allison Crowe, Rufus Wainwright Shawn Colvin, The Low Anthem, Lost in the Trees, The Lumineers, Brandi Carlisle – that could've taken this tribute to another level of brilliance. So Way to Blue is a solid tribute to the legendary Nick Drake, but I can't help feeling there was potential, lost, for magnificence.
BUY @ AMAZON