It's hard to believe it's been almost 25 years since Tori Amos released her groundbreaking solo debut, Little Earthquakes, and 20 years since Under the Pink established Tori as the singer-songwriter to which every female pop pianist who followed would be compared. What a long, strange trip it's been. After exploring the classical genre on her magnificent previous release, Tori Amos makes a welcome return to her trademark chamber-pop piano style on her fourteenth studio album, Unrepentant Geraldines.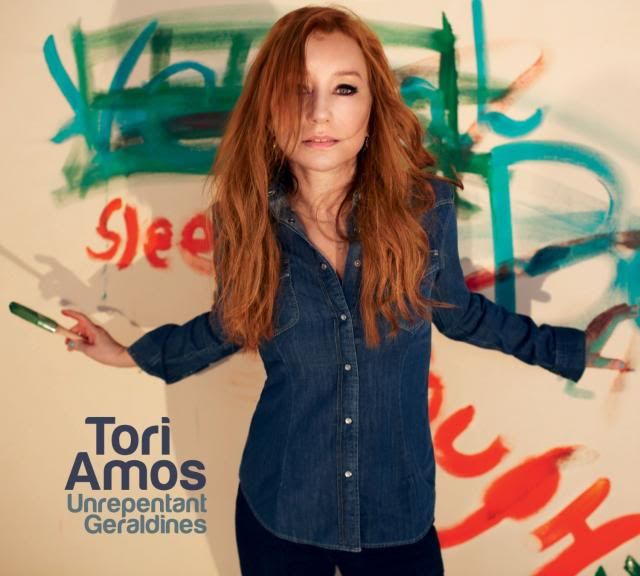 My reaction to this collection is very similar to how I felt about 2002's Scarlet's Walk. It's an undeniably solid album with some truly great songs and is a refreshingly far cry from the surprising mediocrity and silly marketing gimmicks that plagued her last few piano pop endeavors, yet not quite exciting enough to ever be the first album I reach for when I want to listen to Tori Amos. Still, I seem to like it more with every listen and it's wonderful to hear that unmistakable Tori touch on the piano again.
It's the quieter moments of Unrependent Geraldines that are most captivating. Tori's lilt is especially lovely on the "all lay down" refrain of the opener "America." The piano-centric ballads "Wild Way" and "Weather Man" both have a wistful ache akin to, albeit not quite as potent as, classic Tori torch songs "China," "Baker Baker" and "Northern Lad." And "Wedding Day" plays like a Celtic folk-influenced, multi-instrumental followup to "Jackie's Strength."
Tori's daughter, Tash, adds her distinctive, rich and impressively agile voice to "Promise." If our favorite red-haired piano prodigy is grooming her progeny for a solo debut, I'd be very interested in hearing it.
"Giant's Rolling Pin" takes Tori's penchant for eccentric lyrical fables and eclectic orchestration to the ultimate level. The result can either be a jubilant or irksome listening experience depending on your mood, but I recall having the same fickle opinion of "Happy Phantom" back in the day. You have to admire Tori's whimsical weaving of the NSA wiretapping scandal into her lyrical tale of a lie-detecting pie, all set atop of a rollicking folk-pop melody.
There's a strong piano interlude halfway through the album's title track that most recalls Tori's fiery yesterdays and the standout track "Rose Dover" is a dazzling demonstration of her ability to stretch one song's limits with a rollercoaster arrangement.
"I'm working my way back to me again," Tori Amos sings in "Oyster" and, with Unrependent Geraldines, she seems to be succeeding.