While I obviously have a stronger affection for obscure blues, jazz, and folk artists, I do like some "mainstream" acts…Kanye West, Beyoncé, Eve, Busta Rhymes, Justin Timberlake, Ne-Yo, Chris Brown (though he really needs to give the Auto-Tune a rest), and Usher to name a few. I can't that say I'm well versed in Usher's music, as
Here I Stand
is the first of his albums I've ever owned. But I've always liked his voice and thought he stood out from the radio friendly pack by possessing actual singing talent. Of course, he's not exactly bad to look at either. The new album doesn't live up to what Usher's potential seems to be – I'd love to hear him truly emulate his idol Marvin Gaye – but I like most of it.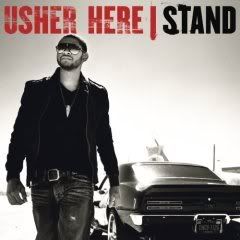 The deceptively melodic piano and soulful vocal of "Intro" fade into the Young Jeezy collaboration "Love In This Club". I must admit I initially misheard the lyrics of the latter. Instead of "club", I thought Usher wanted to make love in this "glove". Gave the song a whole new meaning! I would say the single is probably the weakest track on the album. Usher's vocals are good enough on the verses, but I find the repetitive chorus annoying and dull. The softer "Love In This Club Part II" featuring Beyoncé and Lil Wayne is much better.
Songs like "This Ain't Sex" and "Love You Gently" are more interesting, at least as far as the arrangements and vocals go. The overtly erotic and not particularly poetic lyrics lack the more subtle sensuality of Marvin Gaye and Al Green – both of whom are referenced in the lyrics of "Love You Gently" – but that doesn't detract from the catchy beats of the faster track or the seductively smooth vocals of the ballad.
"Moving Mountains" was the reason I was interested in this album, and remains the stand out track. I would probably like the song even more without such polished production, but even so the tune is refreshingly atmospheric. Jay-Z pays a welcome visit to "Best Thing", but "What's Your Name" is yet another will.i.am product that I dislike.
The sweetly upbeat love song "Something Special" is another favorite, the more earnest "His Mistakes" has a pleasantly unexpected dash of strings, and the grand finale "Here I Stand" ultimately delivers on the album's soulful introduction.
I was not granted permission to include an mp3, but you can hear samples at the links below.
Buy @ Amazon