Zooey Deschanel and M. Ward are back She & Him: Volume Two, the aptly titled followup to She & Him: Volume One (one of my Top Albums of 2008). Volume Two is certainly the "feel-good album" that Zooey calls it. The duo have recorded another collection of airy, retro-styled pop songs fleshed out with folk instrumenation.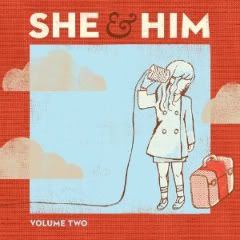 I want to be where your heart is home,
I want to see you with the light in the morning
An advance of Volume Two was leaked online by NPR weeks ago, but I waited for the proper review copy from the label – which didn't arrive until after the release date. I don't know if the prolonged anticipation and hype raised my expectations too high or if it simply suffered by comparison to the magnificent albums that've already been released this year, but my initial reaction was one of disappointment. So much so I originally wrote a cynical review comparing it to lackluster sequels that "continue the franchise but neither surpass nor fully recapture the magic of the original."
But wait, I was so wrong! I decided to give the album another chance without the weight of preconceptions and comparisons to its predecessor. And instead of listening to the digital promo on my computer, I burned it to CD and took it for a drive. This time around I was able to appreciate this album for what it is rather than what it isn't. And then I fell in love with it.
Whereas Volume One was an intimate, romantic album centered on Zooey's voice, Volume Two is a breezy pop soundtrack for summer. The songs, vocals, and instrumentation are upbeat and harmonious, often calling to mind classic girl pop groups. While it's not a great departure from the first album (hence the title), it has a much lighter mood.
Volume Two features original songs penned by Zooey Deschanel as well as two covers – NRBQ's "Ridin' In My Car" and the Skeeter Davis song "Gonna Get Along Without You." Zooey again takes lead vocal, though this time her voice melts more into the arrangements. The first single "In the Sun" features guest vocals by Tilly and the Wall, and it's definitely one of the standout tracks. My personal favorites are the sweet love song "Home" and the a capella finale "If You Can Sleep."
You can stream the entire album for free at NPR.
She & Him – Thieves (mp3 expired) *
She & Him – In the Sun (mp3 expired) *
*mp3s provided by & posted w/ permission of Merge Records
Buy @ Amazon