John Wesley Harding's new album, The Sound of His Own Voice, will be released on October 11, 2011. The melodic acoustic pop and clever lyrics found on The Sound of His Own Voice fall somewhere between Pulp and Elvis Costello. The album features guest appearances by members of Decemberists and REM as well as Roseanne Cash and Laura Veirs.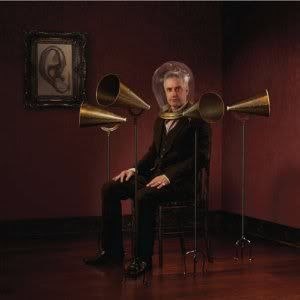 The opener, "Sing Your Own Song," is an especially catchy Brit-pop number, while "The Examiner" sets John Whitworth's poem to a haunting melody.
I appreciate the sentiment of the humorous "There's A Starbucks (Where the Starbucks Used to Be)" given that a local chain restaurant recently completely demolished their building only to erect a "Coming Soon!" sign for the exact same restaurant.
The British singer-songwriter has also authored several novels under his real name, Wesley Stace. Coincidentally, I had just begun to read his most recent novel, Charles Jessold, Considered as a Murderer
(so far an intelligently written thriller about a classical composer), the day before I received his album from Yep Roc Records.
John Wesley Harding – Sing Your Own Song (mp3)*
*mp3 hosted by & posted w/ permission of artist's PR rep
BUY @ AMAZON
John Wesley Harding/Wesley Stace Official Site