I had dismissed Swedish pop singer Lykke Li months ago as a pretty voice wasted on vapid pop songs (much like Lady Gaga) after being sent one of her more grating mp3s. But I liked her voice enough to give her sophomore album, Wounded Rhymes, another try recently and was surprised to find I really like the album. Well, mostly…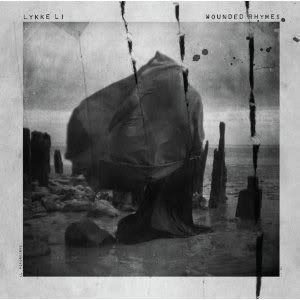 Quirky, moody, syncopatedly rhythmic, femme electro-pop and indie-rock tracks like "Youth Knows No Pain," "I Follow Rivers" and "Jerome" play like a Bat For Lashes/Le Tigre mashup.
"Unrequited Love" is the stunning centerpiece of the album with its eerily quiet, Lynchian melody and retro girl group vocals.
Irksome tracks like "Get Some" and "Rich Kids Blues" live up to my initial distainful assessment of Lykke Li. Hearing her good songs makes the bad ones even more annoying (again like Gaga).
Fortunately, the return to retro pop in "Sadness is a Blessing" and especially the lovely, mesmeric ballad "I Know Places" redeem the album.
Lykke Li – Wounded Rhymes SoundCloud Streams Uploaded by LykkeLi
Buy @ Amazon