Darby O'Gill And The Little People's sound is a mix of traditional Irish music and modern rock. Similar to
Flogging Molly
or The Pogues, but Darby's band doesn't take themselves so seriously. Their humorous take on traditional music is more akin to Tiger Lillies. Their debut studio album,
Traditional Irish Dance Music Vol. 1
, is a well rounded mix of hilarity, rock, and traditional instruments and melodies. It would have topped my 2006 album list, but it was released in 2003.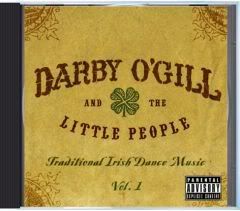 Darby O'Gill And The Little People's moniker was taken from the Disney movie based on Herminie Templeton Kavanagh's stories about an Irish man named Darby O'Gill who enters the kingdom of the Leprechauns. I first heard the band on the podcast Coverville, which featured their cover of Radiohead's "Creep". The band's name alone was enough to catch my attention. After all, my boy was born and bred in County Meath, I lived there myself for a time, and we have a cat named after the Darby O'Gill character.
The band is composed of five musicians with obviously fake names. As the stereotypical names and four-leaf clover symbol (real shamrocks only have three) indicate, they are not an authentic Irish band. Drummer "Paddy O'Furniture" (real name Paul Sinnott) is the only member of the band who is actually from Ireland. The rest of the musicians, including the lead singer Darby O'Gill (Andy Morris), are natives of Las Vegas. But their fake Irish accents and pub style are plenty good enough to fool most people.
"Boys From County Hell" begins the album with a bang. Probably more than any other track, this sounds like Flogging Molly. Fast pace, hard drums, loud Irish-accented harmonies.
The pretty "Ocean Away" has male and female vocal harmonies that call to mind "Fairytale Of New York". "Gates Of Hell" picks the pace back up with a Poguesque sound featuring lots of accordion, fiddle, and funny lyrics.
Next is an accordion heavy, inappropriately and wonderfully upbeat cover of TLC's "Waterfalls". The verse vocals are a little monotonous, but the album is worth purchasing solely for Darby's comical take on Lisa "Left Eye" Lopez's rap.
Then there's "Wild Rover (Dirty Version)". The music is true to the traditional Irish ballad, but the lyrics are quite raunchy and funny. "The Thistle" is a softer, pretty fiddle tune. Most of the band's songs would fit well in an Irish pub, but especially this one.
"15Pints (And I'm Still Standing)" is the stand out track on the album. It has a strong rock beat mixed with fiddle and a loud, harmonic chorus worthy of Saw Doctors. "Whiskey In The Jar" is a traditional Irish song, which may surprise Thin Lizzy or (cringe) Metallica fans. Darby's cover of the song is cheerier than most.
The cover of Radiohead's "Creep" follows, at first sounding like a standard woe is me cover. But when the chorus kicks in, it's brilliantly jolly thanks to the faster pace, accordion, and fiddle. And Darby's tongue in cheek vocals give Richard Cheese a run for his money.
Call me crazy, but the music of "Drink The Night Away" reminds me of the Fraggle Rock theme. Their cover of Outkast's "The Whole World" begins with a traditional jig sound before breaking into an Irish rap.
The lyrics of "I Got So Drunk I Crapped Myself" are every bit as funny as the title suggests. The song officially ends the album on a very high note, followed by a short, sweet hidden track that we'll just call "Bitch Give Me My Money".
Darby O'Gill And The Little People – Gates Of Hell (mp3)
Darby O'Gill And The Little People – Wild Rover (mp3)
Darby O'Gill And The Little People – Boys From County Hell (mp3) *
*mp3s hosted by & posted w/ permission of band
Darby O'Gill's Official Site
Darby on MySpace