Attention! This is my new favourite band. Luminescent Orchestrii came to my attention in the same way that Elizabeth & The Catapult did, by playing with The Dresden Dolls. Apparently if Amanda Palmer likes a band, I will love them. The band's press release describes their music as "circus musicians, punk rockers, Appalachian fiddlers, audio tweakers, irreverent composers, Romanian gypsy melodies, punk frenzy, salty tangos, saucy lyrics, unexpected haunting harmony, hip-hop beats, music to make you dance and kiss and scream". They are all of this and more, their sound truly defying category. The vocals at times recall the Mediaeval Baebes cover from
The Wicker Man
, and there's a definite connection between their frenzied, violent approach to orchestral instruments and the punk cabaret of The Dresden Dolls, but neither description fully captures their unique and unearthly sound.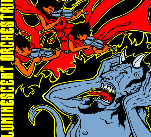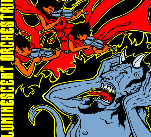 The Luminescent Orchestrii is composed of Sxip Shirey on resophonic guitar, bullhorn harmonicas, and melodica, Aaron Goldsmith on guitarrin, Rima Fand on violin and viola, Adam Matta supplying human beatbox, and Sarah Alden, Kaia Wong, and Julianna Carney on violin. Males and females alike lend their vocal talents to the mix.
"Amaritsi" begins with acapella female vocals before the strings kick up into a catchy, spicy, upbeat tune that I can't get out of my head. The screeching strings on "Stranger" remind me when the Devil plays his fiddle in Charlie Daniels' "Devil Went Down To Georgia".
The band's take on the traditional instrumentals "Freilach/Rabbi in Palestine" and "Cohen/Kolemeike" are exotic, spirited, and beautifully captivating. "Warsaw" could be an Appalachian folk tune if not for the seductive vocals and passionate music.
Songs like "Knockin" and "Too Hot To Sleep" sound like they could have been lifted from the Roma centuries ago, yet Sxip Shirey wrote them himself. The title track also has a hint of jazz mixed into its gypsy sound. "Tango du Réve" is the above referenced saucy tango.
There are so many genres in "Tea", I don't know where to begin. The track starts sounding like a Tom Waits song then switches to an ominously dark semi-bluegrass sound with female harmonies on the chorus before sliding into speak-sing blues and bursting into screaming strings that finally culminate in a chaotic explosion of sound. It's mind-blowingly awesome, what else can I say.
I don't believe I've ever heard a hip-hop fiddle tune until now. "She's A Brick" bends genres with a mix of human beatbox and singing strings. The pretty closing track, "Sweet", is the most peaceful that the album ever gets.
I haven't been this excited about a new musical discovery since author Caitlín R. Kiernan first introduced me to The Dresden Dolls. Luminescent Orchestrii's Too Hot To Sleep would unquestionably be my #1 album of 2007, except for the fact that it was released in 2005.
Buy @ Amazon