Is it possible to fall in love with a record label? Because I think I have, at least a little. The book Worlds Of Sounds: The Story of Smithsonian Folkways by Richard Carlin chronicles the origins and evolution of Smithsonian Folkways. The nonprofit music organization was born in 1940 from a conversation between original Folkways label founder Moses "Moe" Asch and Albert Einstein. Asch was an immigrant who dreamed of breaking ethnic stereotypes and Einstein encouraged him to capture "all the sounds of the world". And he did just that.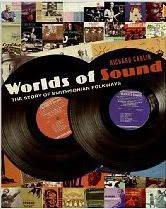 From the very beginning, Moe Asch endeavored to explore obscure and exotic genres of music, spoken word, and other sounds that had been abandoned or entirely neglected by major labels, working closely with any artist who walked through his door with the desire to record. Some of the artists he welcomed, nurtured, and befriended were Pete Seeger, Woody Guthrie, Lead Belly, and more recently, Lucinda Williams.
Asch issued the very first live jazz recordings, and it's not a big leap to say that concert series like Mountain Stage owe him a credit. He was also the originator of the fully documented liner note booklets that are one of my personal favorite features of Smithsonian Folkways albums.
Asch shared my view that "jazz is folk music". Though one of the more interesting anecdotes tells of Asch's ill-fated sole foray into commercial jazz. There aren't many who could claim Nat King Cole drove them into bankruptcy. Also of note are the vivid descriptions in the book of the field recording process, culled from correspondence between Asch and his collaborators. I especially enjoyed reading about the perils one folk guitarist faced when playing with three hundred turkeys.
Though it is of course difficult to differentiate fact from legend in such a biography, the perception I get of Asch is one of a kindred music enthusiast. He valued albums over individual hits and sincerity over popularity. This principle resulted in a young Bob Dylan being turned away from his studio due to what Asch deemed a false twang in Dylan's singing voice that Asch felt was designed to appeal to more fans.
Unlike major labels, Asch was determined to keep his recordings in print even if there was little or no demand. In his words, "Just because the letter J is less popular than the letter S, you don't take it out of the dictionary."
One of the more controversial aspects of Asch's business was his practice of reissuing recordings made and owned by other labels without obtaining permission. This resulted in Asch being labeled "a musical pirate". Sound familiar? Asch's response was: "cultural property belongs to all".
Asch's reasoning was that he was "creating new audiences for the music, which actually benefited the labels". He felt that the major labels were "destroying the culture" by suppressing less popular recordings simply because they owned them, and he was determined to make the recordings available to the public. I think any music blogger would be inspired by Asch's battle with major labels in the early days of copyright litigation.
However, Asch was no saint to his artists. Though he granted them total creative freedom, he gave them little compensation for their work and many later accused him of not paying royalties to them at all. Asch had no qualms about putting the survival of his oft struggling label ahead of the interests of the artists. While historically we may appreciate the huge part Asch played in preserving these recordings, one can't help but sympathize with singers who felt betrayed by the man they placed so much trust in.
All of this and much more is detailed on Carlin's book. The reader's absorption in the material may vary with the genre or era discussed in each chapter. I was personally drawn more to the sections on blues and folk music than the albums for children. The contents of the book are just as diverse as the Folkways catalogue.
The latter portion of the book deals with the transfer of the Folkways archives to The Smithsonian, the creation of the new Smithsonian Folkways label, and the organization's efforts to continue Asch's vision of bringing sounds of the world to everyone – including the institution's embrace of the digital age, which led to their work with music websites like Muruch.
Woody Guthrie – Buffalo Gals (mp3 expired) *
*mp3 posted w/ permission of Smithsonian Folkways
Muruch Smithsonian Folkways Reviews
Smithsonian Folkways Official Site
Buy the Book
Buy Smithsonian Folkways Albums