Tennessee quartet Christabel & The Jons are back with a new album Custom Made For You. Though my affection for their previous release Love and Circumstances hasn't wavered, I love this disc even more. The new material improves on the band's well-crafted blend of vintage jazz, country, and swing, but some of the tunes are as catchy as any modern pop song.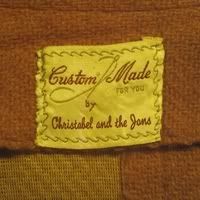 Oh I believe, I believe
I can make myself happy,
if I want to.
Lead singer Christa DeCicco's sassy speakeasy croon gleefully dances with the boys' Tin Pan Alley instrumentation, and her lyrical prose is sharper than ever.
Songs like the opener "Losing Sleep" and "Closer To You" still have that mellow nostalgia, but the tempo gets a kick with the album's endearing and jaunty title track. "I Believe" is a softer, wistful ballad, but "Nothing Is Wrong" has a spring in its step.
The buoyant, deliciously sappy love song "The Good Life" has shades of Samoa Wilson's cover of "What A Little Moonlight Can Do" (which I mean as a huge compliment), while the sultry "Last Night's Dress" should appeal to Eleni Mandell fans.
"Boy Crazy" is another stand out thanks to Christa's merrily hyperactive vocals, while "Back To Tennessee" sounds more like an old doo-wop number thanks to snappy fingers and the guys' backing harmonies.
I'm sad I won't be able to attend the band's performance at The Purple Fiddle this weekend, so I hope they return later in the year.
Christabel & the Jons – The Good Life (mp3 expired)