Joshua James' spectacular sophomore album Build Me This will be released on September 22nd. The singer-songwriter's debut The Sun is Always Brighter was sleeper hit on my Top Albums of 2008, and I'm pleasantly surprised that the new disc is even better. The warm tone of Joshua's voice and the lilt of his phrasing continue to remind me of Xavier Rudd (a big compliment), but there's a harder rock edge to these new arrangements.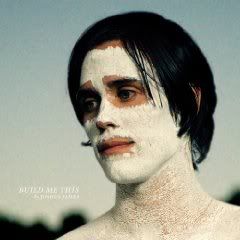 The quiet, almost a capella intro of "Coal War" is quickly yet gently fleshed out into a bluesy gospel number replete with handclaps, stomps, and a backing choir. The latter part of the song bursts from hushed chain gang clang into soaring rock accented with militant drum.
The lyrics of "Magazine" describe a painful separation, but musically it is an Americana ditty – all dusty roads and sunsets buoyed by rock guitar and drum crashes that eventually give way to sprawling piano and mournful strings.
"Mother Mary" is a darker rock ballad dealing with spiritual and social themes – the album's title Build Me This is a reference to Joshua's longing for something to believe in. "Black July" remains in murky waters, but churns up into a blues-rock thump.
Other tracks lighten the mood with a return to the softer sound of James' debut. The prettiest of these is the unrequited love anthem "Lawn Full of Marigolds".
Joshua's voice reaches Glen Hansard levels of desperation amid a haunting chorus of voices in "Daniel". And "Benediction" closes the album with atmospheric rock piano and beautiful, orchestral strings.
Searching Hype, Elbo & Google, it seems the following mp3 is an exclusive to Muruch, at least for now…
Joshua James – Magazine (mp3 expired) *
*mp3 posted for limited time w/ permission of Music Allies
Buy @ Amazon