Australian singer-songwriter Kate Miller-Heidke's new album Curiouser will make its U.S. debut on March 16th. Kate is being championed as the heir to avante-pop stars like Lene Lovich and Cyndi Lauper, but I personally think this album sounds like a collaboration between Kate Bush and Lady Gaga. Mainstream pop fans will definitely enjoy this disc, as will those searching for catchy tunes with lyrical substance.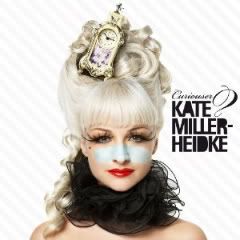 Opening tracks "The One Thing I Know" and "God's Gift To Women" layer infectious hooks with Kate's eccentric soprano.
The upbeat melody of "Caught In The Crowd" masks lyrics about a victim of school bullying, and "The Last Day on Earth" is a fragile piano ballad.
"Can't Shake It" is pure disco, while "I Like You Better When You're Not Around" is a quirky pop ditty about a vicious so-called friend.
The stunning "Politics in Space" weaves sci-fi imagery and operatic vocals with a chain gang stomp.
Kate Miller-Heidke – Politics in Space (mp3) *
Kate Miller-Heidke – Caught In The Crowd (mp3) *
*mp3s hosted by & posted w/ permission of artist's PR rep
Buy @ Amazon
Kate Miller-Heidke Official Site
Kate Miller-Heidke MySpace