John Mellencamp's new album No Better Than This will be released August 17th on Rounder Records. Mellencamp wrote the album's thirteen tracks in just thirteen days. Teaming up once again with producer T Bone Burnett (who also produced 2009's brilliant Life Death Love and Freedom), Mellencamp used only one microphone and other vintage equipment to record the new songs at various historic Southern locations – including legendary Sun Studios. The result is an organic, lo-fi blend of blues, folk, country and rock.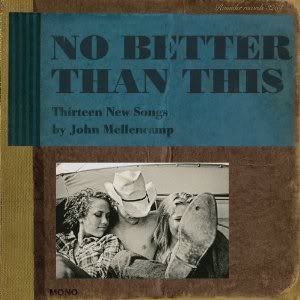 "The West End" is the standout track with Mellencamp growling over a mix of simmering blues guitar and country clang.
"Right Behind Me" is another favorite with its swaggering Tin Pan Alley fiddle and strum.
And "A Graceful Fall" is a classic country barroom number worthy of ole Bad Blake – no surprise since producer T Bone Burnett also wrote the music for Crazy Heart.
If your perception of John Mellencamp's music has been shaped by his commercial hits in the past, you need to hear the 21st century Mellencamp – particularly if you're a fan of T Bone Burnett's. Life Death Love and Freedom and No Better Than This are by far John Mellencamp's finest albums.
Buy @ Amazon
(only $9.99 on CD)
(not yet available)