I expected Sunday night's Mountain Stage concert to be good, but even I was suprised at just how fantastic it turned out to be. The lineup was Anaïs Mitchell, Danielle Ate the Sandwich, Horse Feathers, Delta Spirit and Black Dub.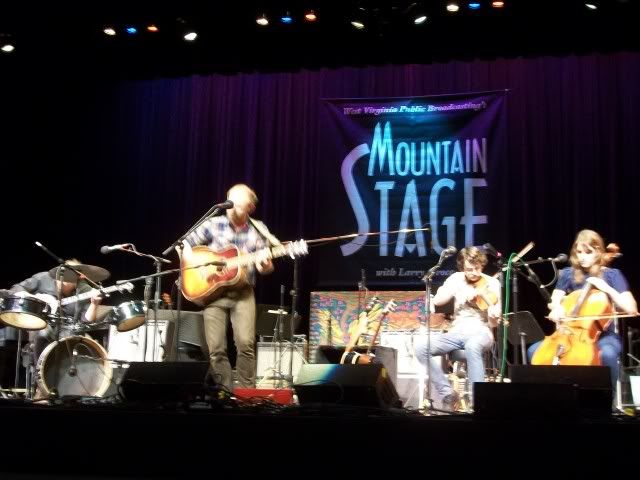 Portland, Oregan "chamber folk band" Horse Feathers opened the show with songs from their latest release Thistled Spring
.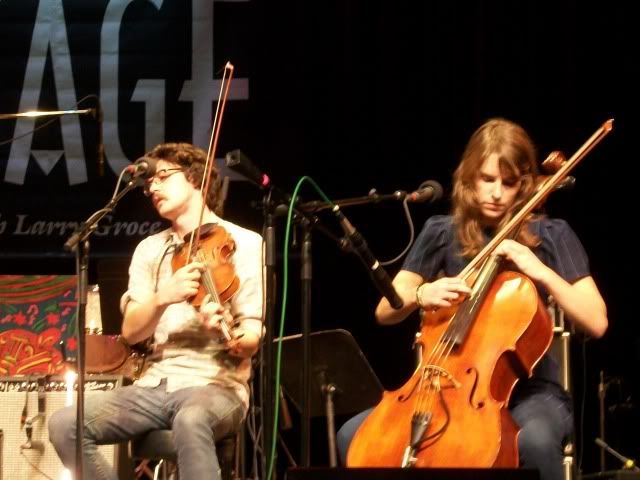 Led by singer-songwriter Justin Ringle, the band's current touring lineup is violinist Nathan Crockett, cellist Catherine Odell, and multi-instrumentalist Sam Cooper. After seeing Alex Wong, The Low Anthem and Lost in the Trees at Mountain Stage, I'm not as easily impressed by multi-instrumentalists as I used to. However, Sam Cooper 's ability to play the banjo and the drums at the same time was nothing short of extraordinary. Unfortunately, his drum set prevented me from getting a good shot of him in action.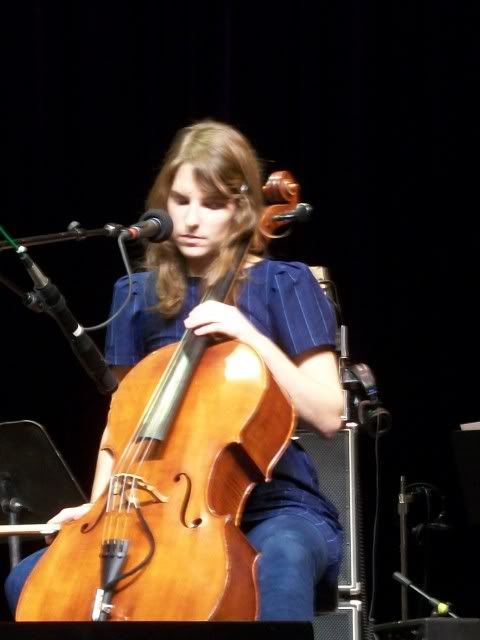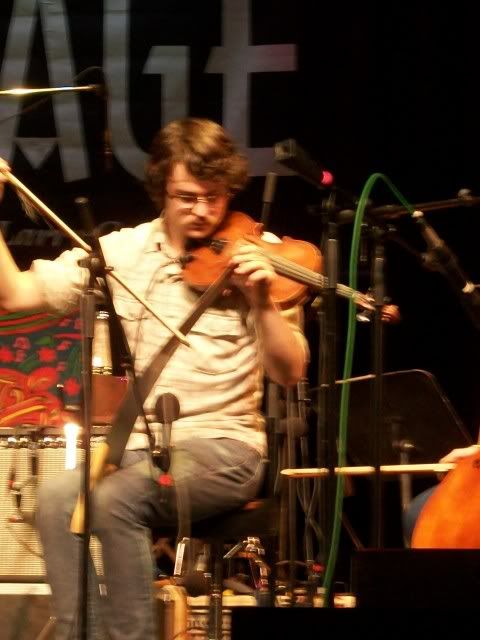 The highlights of Horse Feather's set were the hypnotically sparse title track from the new album and the beautiful ballad "Cascade."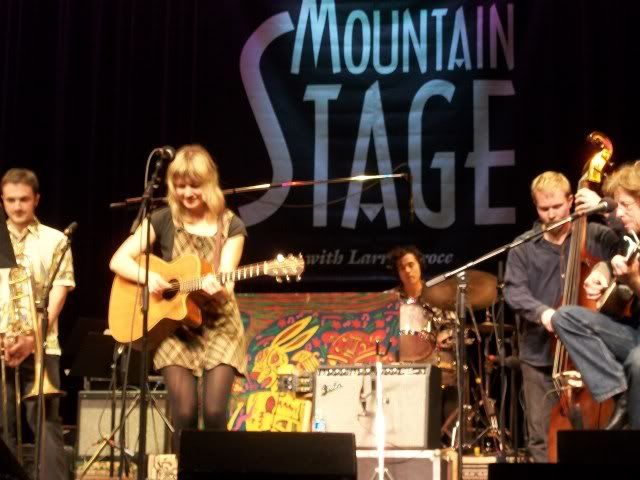 Next up was the incomparable Anaïs Mitchell. When I first saw Anaïs perform at Mountain Stage two years ago, she played a captivating song called "Why We Build the Wall" from a "folk opera" she was working on at the time. Since then, her "folk opera" was completed, recorded, and released by Righteous Babe Records. Hadestown is by far my favorite album of 2010, and to say I was excited to hear portions of it live would be a chasmic understatement.
The studio recording of Hadestown featured such well known guest vocalists as Ani Difranco, Greg Brown, Petra Haden, Bon Iver, and Ben Knox Milller of The Low Anthem. Sadly, though, it was impossible to book all of those artists for one Mountain Stage show. Instead, Anaïs was accompanied by her Hadestown co-composer Michael Chorney and "The Hadestown Orchestra." Fine by me, Anaïs' superbly nuanced voice has more than enough emotion and inflection to portray the entire cast of characters herself.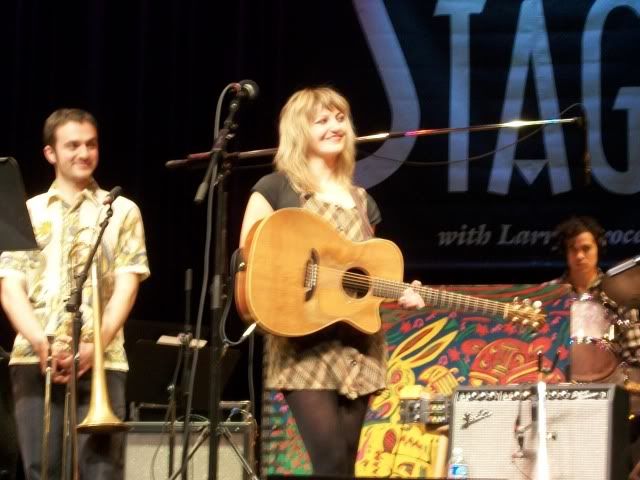 Since last winter, I have played the Hadestown album on repeat so many times that I know it by heart from beginning to end and love it with a passion and admiration I usually reserve for great literature. The monumental brilliance of the album was difficult to recreate in a live setting without the extra players, but Anaïs was absolutely resplendent and her backing band did an excellent job.
I wrote all about the inspirations, inner workings, and song descriptions in my rave review of the Hadestown album (click title for review). Long story short: Hadestown resets the ancient Greek myth of Orpheus and Eurydice in a fantastical Depression-era walled city with a gold mine. Proving my point that this isn't your typical concept album, Anaïs provided little background on the songs she performed at Mountain Stage. Yet the audience obviously enjoyed and enthusiastically responded to each song for its own substantial merit without any need for context.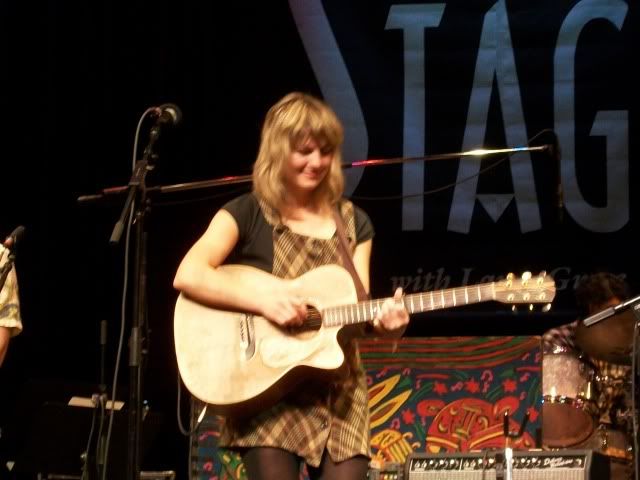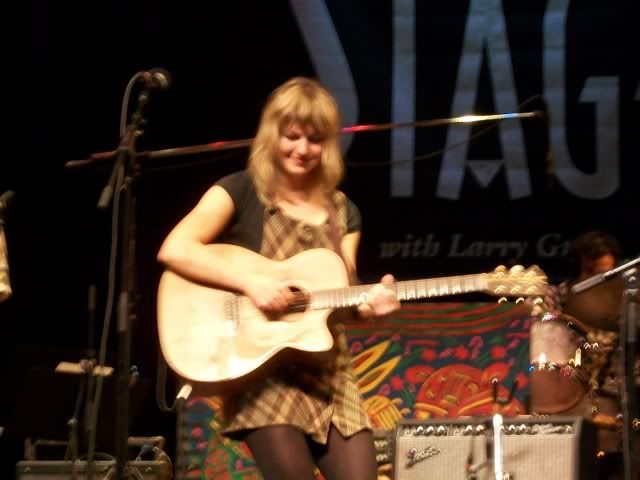 Anaïs began with "Wedding Song," the Orpheus and Eurydice love duet that opens the album The stage arrangement and Anaïs' vocals seemed much more buoyant than on the studio recording, which I think added the crowd's enjoyment of the song. The faster, jubilant tempo didn't work as well for Hades' call-and-response "Why We Build The Wall." The orchestral stage arrangement didn't have quite the same chilling impact of Greg Brown's quietly menacing album version or Anaïs' previous solo acoustic performance. That slight disappointment aside, though, it was still a great performance.
Anaïs was wonderful as Persephone in the swaggering, speakeasy number "Our Lady of the Underground." As much as I love Ani DiFranco's version, I think Anaïs' voice was better suited to the setting and time period. And hearing Anaïs sing Eurydice's melancholy theme "Flowers (Eurydice's Song)" live was as moving as expected. She ended her set with "How Long?," the duet originally recorded as "Hades and Persephone" on The Brightness.
There are several videos on YouTube from the original Hadestown productions, and you can hear Anaïs Mitchell's solo performance at Mountain Stage of "Why We Build The Wall" at NPR.
Anaïs Mitchell – Flowers (mp3)*
Anaïs Mitchell – Wait for Me (mp3)*
*mp3s hosted by & posted w/ permission of artist's PR rep Toolshed Media on behalf of Righteous Babe Records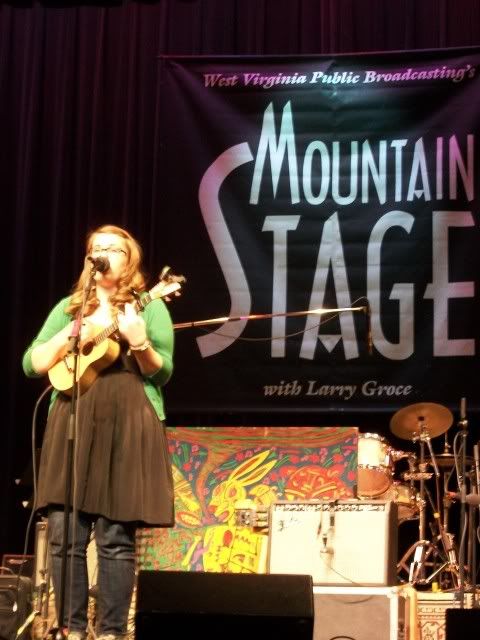 As I said in my review of her album Two Bedroom Apartment, Danielle Ate the Sandwich is Nebraskan singer-songwriter Danielle Anderson and she describes her sound as "seven minutes in heaven with the most popular girl's significantly less attractive best friend."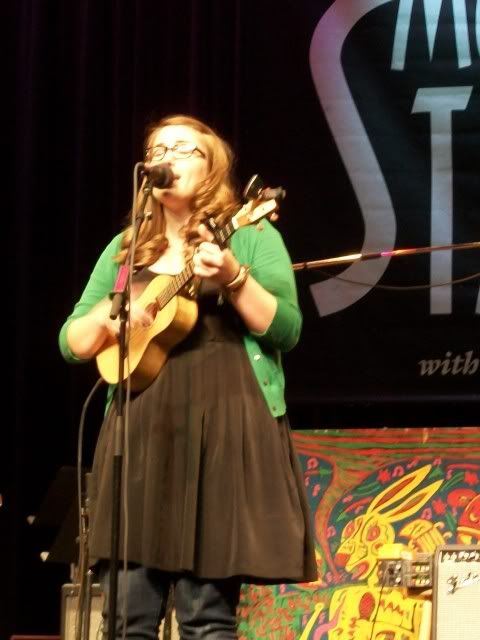 Let me tell you, Danielle is freakin' adorable in person. And not just because of her cool horn-rimmed glasses and bright green sweater. Her down to earth demeanor, wry in-between songs banter, heartfelt vocals and pretty acoustic melodies quickly charmed the audience. And that girl sure can pluck the life out of a ukulele.
I was a little worried for her having to step in Anaïs Mitchell's shadow, but I must say Danielle Ate the Sandwich stole the show. If she ever tires of singing, she could easily have a career in standup comedy. She kept thanking us for being nice to her and alternated between self-deprecating quips and grandiose statements to the radio audience about her "amazing" instruments. After confessing her discomfort among "cool-looking musicians," she said "I look like I made straight A's, don't I?"
Jokes aside, her voice was strong and beautiful. Danielle is a prime example of why I hate the current crop of Auto-tuned, packaged pop and country stars. Truly great singers don't need any effects to make their voices sound perfect. She played "Bribes," her funny ode to "El Paso," the audience favorite "We Are Hot Dogs" and "American Dream." But it was her lovely tribute to her grandfather, "17 and 53," that stood out most to me.
You can watch and hear Danielle sing several of her own songs as well as some unusual covers at her YouTube channel.
Danielle Ate the Sandwich Official Site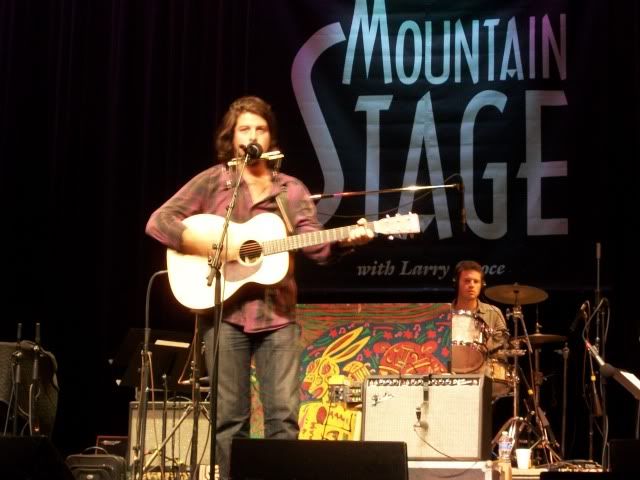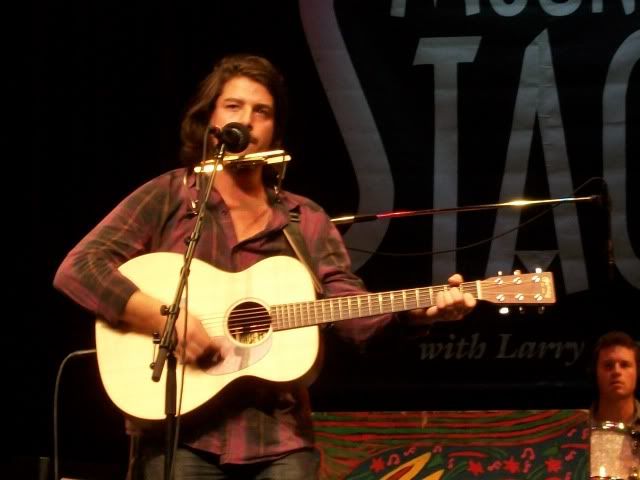 Delta Spirit (which I keep confusing with The Duke Spirit) were formed by bassist Jon Jameson and drummer Brandon Young, both former members of Noise Ratchet . The band played songs from their new sophomore album History From Below
, the highlights of which were the small-town boy in the big city anthem "St. Francis" and the love gone wrong ballad "Scarecrow."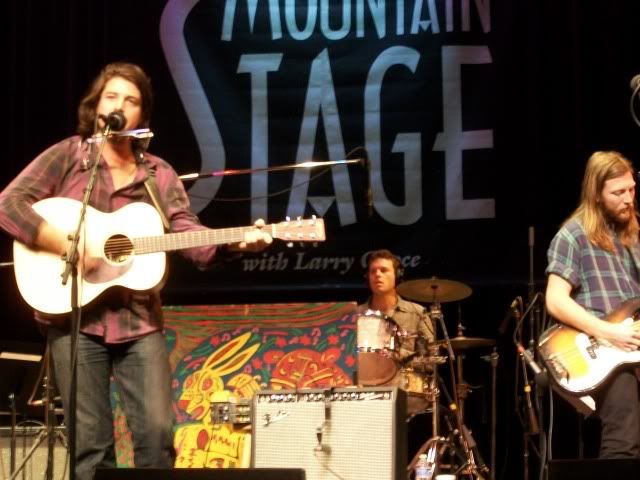 Lead singer Matthew Vasquez' gritty vocals and the band's combination of dusty tales and rowdy folk-rock were reminiscent of Felice Brothers. They were so good, I was starting to think it was going to be one of those rare Mountain Stage concerts that I loved from beginning to end. It almost was, but then…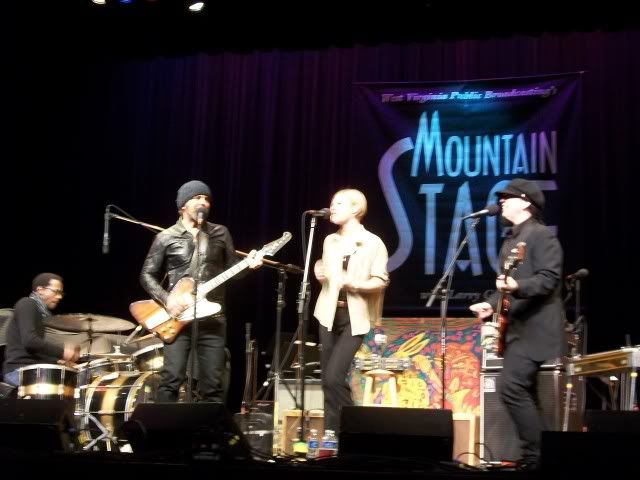 Black Dub featuring guitarist-producer Daniel Lanois, singer Trixie Whitley and drummer Brian Blade ended the show with an extended set of rock, soul and Jamaican dub music. They played tracks from their recently released self-titled debut
.
The first half of their set was astonishingly good and I was shocked to hear such a big, formidable voice emit from Trixie's lil body. That girl can wail with the best of them. The highlights were "Surely" and "Sing."
But when the band switched from soulful blues-rock to what Lanois called "cinematic" music, the evening took a long and boring turn for me. Longtime readers know how I feel about jam bands, and that is what Black Dub became for the second half of their set. The long instrumentals and repetitive vocals seemed popular with the musicians I glimpsed gathered backstage, but it's just not my thing.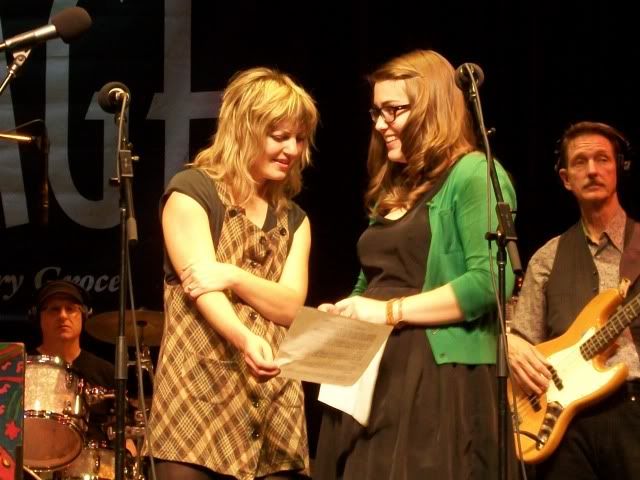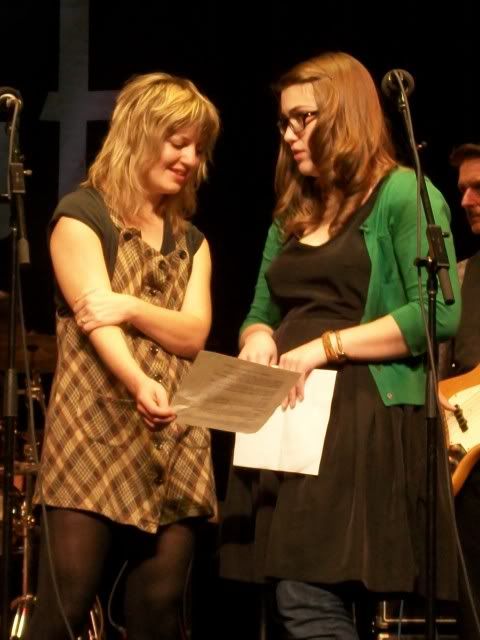 Anaïs Mitchell, Danielle Ate the Sandwich and members of Horse Feathers joined the Mountain Stage band for the group finale – a cover of the traditional "Sinner You'd Better Get Ready."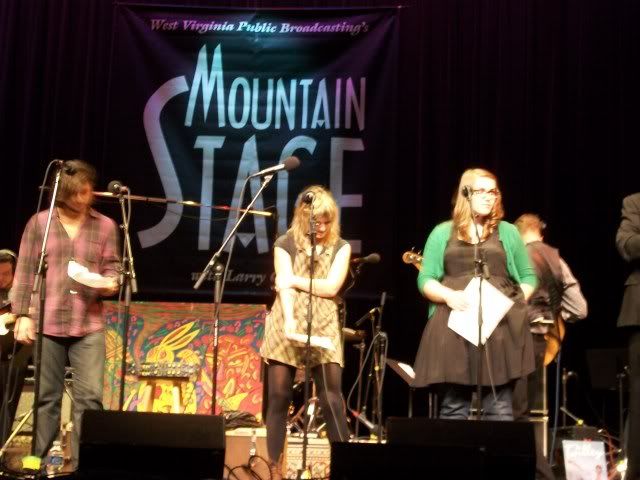 Sometimes on these group sings, the whole isn't equal to the sum of its parts. But this time all the singers sang in glorious harmony and it was one of the better finales to the show I've heard.