Turncoats, the sophomore release by Cory Mon & The Starlight Gospel, will be released March 31st. A fantastic mix of gentle bluegrass instrumentation and simmering Western blues, the album is at times reminiscent of The Felice Brothers.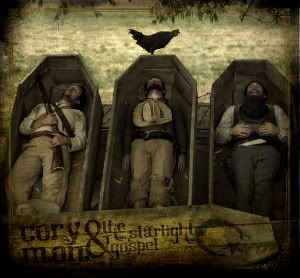 Strangely, the only true weakness to be found on Turncoats is in lead singer-songwriter Cory Mon's voice. Though by no means bad, his vocals seem lackluster compared to – and occasionally sound strained keeping up with – the excellent arrangements on the album.
The exception is the song "Colors Fade," in which Cory gets some welcome grit in his pipes for the verses before belting out the glorious chorus. Why he chose not to display such vocal power in the other songs is inexplicable to me.
Perhaps it's the production of the album. Songs from Yonder is the Clock, for example, sounded so much better when The Felice Brothers played them live.
Whatever your opinion of Cory's voice, his songs and his band, The Starlight Gospel, are strong and brilliant enough to make Turncoats an album worth hearing.
The album is not yet available for pre-order, but should be at the links below in the coming months…
Pre-order @ Amazon