Simply Eva is the first album of 2011 that I expect to see on my best of the year list. Set for release on January 25th by Blix Street Records, the album features previously unreleased material by the late, great Eva Cassidy. What sets Simply Eva apart is that it is composed entirely of acoustic versions of Eva's best known recordings. Accompanied only by the soft strum of her guitar, Eva's extraordinary voice is beautifully displayed in this exquisite collection.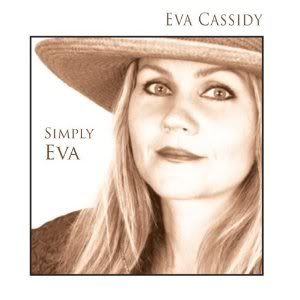 From her tender rendering of Christine McVie's "Songbird" through her bluesy folk renditions of "Wayfaring Stranger and "Wade in the Water" and her soaring transformations of Cyndi Lauper's "True Colors" and "Time After Time," this album is truly flawless. The sparse acoustic arrangements allow Eva's big, magnificent to shine.
My personal favorite tracks are her gorgeous covers of "Over the Rainbow" and "Autumn Leaves," but there really isn't a weak track here. Although it's less than a minute long, Eva's a capella performance of "I Know You By Heart" is a breathtaking, tear-inducing finale.
Surpassed only by Songbird, Simply Eva is one of the greatest and most exciting collections of Eva Cassidy recordings to date.
I was not granted permission to share an mp3 and there aren't any samples online yet, but I promise you this album contains some of the most beautiful music ever recorded.
Buy @ Amazon