Billie Holiday is my favorite singer of all time, any time. So needless to say I was excited to hear the new album, A Tribute To Billie Holiday. Set for release on July 5th, the album will be released via actor Peter Stormare's (Fargo
, Dancer in the Dark
) StormVox Records. The tribute features Esperanza Spalding, Shelby Lynne, Babyface and many more contemporary artists covering classics originally made famous by the late, great Lady Day.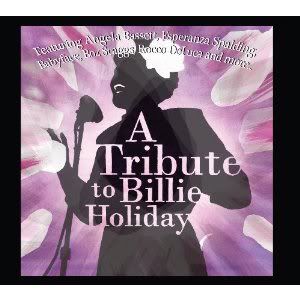 Deborah Cox kicks things off with the aptly titled "Fine and Mellow," which is simultaneous breezy and sultry. Shelby Lynne's country croon is well suited to the melancholy ballad "You've Changed" which follows.
I was not familiar with the names Erin Boheme and Renee Olstead, but will be searching them out after hearing their respective covers of "Them There Eyes" and "Good Morning Heartache." Both are straightforward but absolutely splendid jazz renderings.
A.J. Croce contributes a nice bluesy piano take on "Ain't Nobody's Business If I Do."
The Patti Austin, Dave Koz and Luis Conte cover of "Body and Soul" and Rickie Lee Jones' grating vocal on "They Can't Take That Away From Me" are the weakest songs on the album. Granted, the entire tribute is a little too "adult contemporary" and/or "soft jazz" for my taste, but those two tracks are beyond bland.
Rocco DeLuca's "Lady Sings The Blues" is solid enough, but would've been so much better with stronger dose of Rocco's signatures blues-rock sound in the arrangement.
Esperanza Spalding shows why she won the Grammy with "I'll Look Around," and Frida Payne gives a swaggering "Billie's Blues" that does Maria Muldaur proud.
Yet it is Babyface's stunning interpretation of "Strange Fruit" that is by far the stand out track on the album.
Brownstone's sexy cover of "God Bless The Child" serves at the tribute's finale.
Actress Angela Bassett (What's Love Got To Do With It?
, Waiting to Exhale
) provides spoken word readings presumably from Billie's autobiography, Lady Sings the Blues
(neither the press release nor the liner notes say), as an introduction to the album and in between several tracks. This gimmick proves to be more enjoyable in concept than actuality, save for the snippet that precedes "Strange Fruit" in which Billie compared her drug addiction to slavery.
The narration may have fit in better if the tribute had an overall darker tone, but seems out of place among these soft and mellow covers. And that's really what disappoints me about this entire collection. Bille's music, much like her life, was full of both great beauty and deep pain. This album adequately captures the beauty, but – aside from Babyface's rendition of "Strange Fruit" – fails to express the kind of pain and longing that could be heard in any individual note Billie sang.
It's not that any of the arrangements or artists are bad, on the contrary, it's a pretty album that will probably please fans of any of the participating singers. It's just not what I personally view as a true tribute to such an incomparable talent as Billie Holiday.
Esperanza Spalding – I'll Look Around (mp3 expired)*
*mp3 provided by & posted w/ permission of ROMO*PR on behalf of StormVox Records
Buy @ Amazon