Driftwood Fire will release their debut album, How To Untangle A Heartache on August 23rd. Though Driftwood Fire are billed as an Americana duo comprised of former scientists – singer-guitarist Lynn Scharf and multi-instrumentalist Charlotte Formichella – the two women were joined by several other talented musicians for the recording of How To Untangle A Heartache. The resulting album is truly a delight.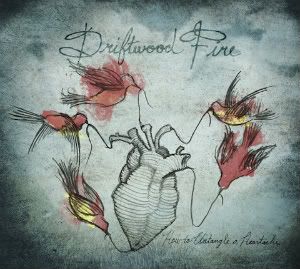 The opening tracks are airy pop-folk songs that fall somewhere between Crooked Still and Beth Nielsen Chapman, but How To Untangle A Heartache really finds its footing with the panoramic "Let It All Go."
"Appalachian Hills" is the album's biggest stunner. The haunting folk ballad explores the beautiful landscape and horrific racism in the Shenandoah valley during and after the Civil War.
Other highlights are the jaunty Tin Pan Alley instrumental "Intermission" and the gentle pluck of banjo in the atmospheric finale "The Salty Sea."
Driftwood Fire – Let it All Go (mp3 expired)*
*mp3 posted w/ permission of band's PR rep
The album is not yet available for purchase, but should be at the links below closer to the release date…
Pre-order @ Amazon
Driftwood Fire Official Site
Driftwood Fire MySpace